By Jeffrey A. Roberts
CFOIC Executive Director
Two Democratic-sponsored bills to limit "dark money" in Colorado political campaigns died Wednesday in the Republican-controlled Senate State, Veterans and Military Affairs Committee.
The demise of House Bill 17-1261 and House Bill 17-1262 wasn't surprising given that both bills had passed the House with no support from Republicans.
HB 17-1261 would have required that anyone spending $1,000 or more in a year on electioneering communications include "paid for" disclosures in those ads. HB 17-1262 would have closed a reporting gap, making spending information on electioneering communications available throughout a campaign season.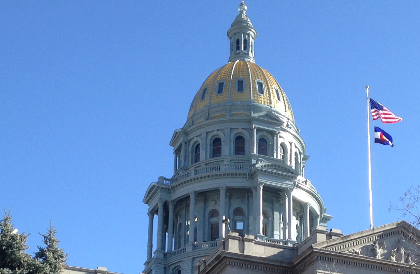 "We believe that transparency is for government and privacy is for people," said Mike Krause, director of public affairs for the Independence Institute, a free-market think tank that has fought court battles on existing electioneering restrictions. He testified against both bills, saying they went "too far" by limiting a person's First Amendment right to comment on a candidate.
An electioneering communication is a flyer, mailer, billboard or other ad that "unambiguously refers to any candidate," according to the Colorado Constitution. They sometimes are used to target candidates anonymously, leaving the public in the dark about who is trying to influence an election, supporters of the bill argued.
"Voters have a right to know this information about who is trying to sway their vote," said Peg Perl, senior counsel for Colorado Ethics Watch. '"The state has a strong interest in providing this information to the voters so the electorate is informed."
But because electioneering communications "merely mention a candidate's name," Deputy Secretary of State Suzanne Staiert said HB 17-1261 could "grab communications that really don't have anything to do with an election."
The state Constitution's definition of electioneering communications includes ads that are disseminated to the public within 30 days of a primary election or within 60 days of a general election. For campaign-finance disclosures, HB 17-1262 would have changed that definition to include communications that are printed, broadcast or distributed between the June primary and the November general election.
Colorado Ethics Watch found that at least $1.9 million was spent on political ads last year between June 29 and September 8, a period in which groups were not required to report on electioneering.
Krause called the bill "a burden on free speech and public discourse." He said it's "not needed and might actually discourage legitimate public discussion of candidates and issues."
Both bills died on 3-2 votes in the committee.
Follow the Colorado Freedom of Information Coalition on Twitter @CoFOIC. Like CFOIC's Facebook page. Visit CFOIC's legislature page to track bills in the General Assembly that could affect the flow or availability of information in Colorado.