Update: The FY 2022-23 state budget signed by Gov. Jared Polis on Apr. 25 includes $1.6 million for the money-in-politics system
By Jeffrey A. Roberts
CFOIC Executive Director
The Colorado Secretary of State's Office wants to overhaul and combine its online campaign-finance and lobbyist disclosure platforms to create "a comprehensive money-in-politics system" for candidates, lobbyists and the public, members of the state legislature's Joint Technology Committee were told this week.
The proposed system, if it's funded, would let users explore connections between political contributions and lobbying practices, said Steve Bouey, who manages the secretary of state's campaign-finance and lobbyist programs.
"People are asking a lot of questions about what types of clients are hiring lobbyists and are those clients also supporting legislators via campaign contributions," Bouey told lawmakers. They're interested in "closing the loop between campaign finance and lobbying, the entire follow-the-money circle."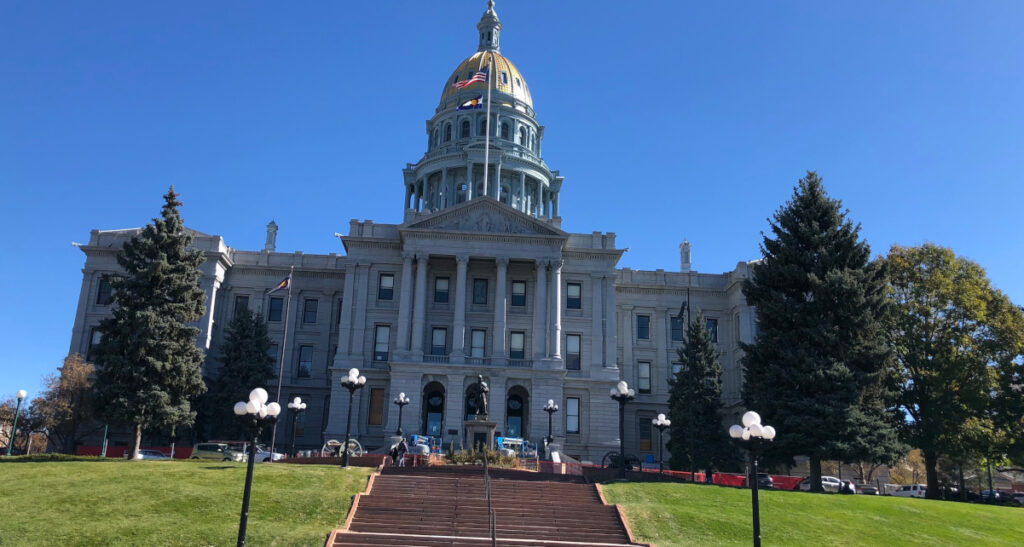 The secretary of state's office has run two separate systems for many years. The TRACER campaign-finance website, built by a vendor for $1.4 million, went live in 2010, according to a slide presentation made to the committee Thursday. The lobbyist website, developed internally, has been around since 2002.
"As you can imagine, some of the underlying architecture of both of those software systems has been somewhat antiquated. It's certainly showing signs of age and certainly needs updating, without a doubt," Bouey said.
The systems are designed to accommodate those required to file disclosure documents and members of the public who want to examine the records, but they work independently. The new proposal calls for "a comprehensive money-in-politics system" that would increase functionality for users and "add sunlight in the connection between money spent on lobbying and that spent on campaign finance," said John Magnino, director of government and public affairs for the secretary of state's office. It would "generally foster greater transparency through a more modern, useful, functional system."
Magnino and Bouey said the secretary of state's office would like to work with the Joint Technology Committee to develop features of the proposed system and to get money for the project from the legislature. Although the secretary of state's office is funded by the fees it collects, Magnino said the cost of the overhaul is big enough to require an allocation from the state's General Fund.
"We could raise the fees in campaign finance and lobbying exponentially and not be able to cover the cost of this individual system," he said.
Committee members suggested a few features during Thursday's meeting such as better instructions for complying with Colorado's campaign-finance laws, especially for new candidates.
"As I look at TRACER, even in the role that I have and being someone who uses it frequently and looks to see what other people are doing, it's fairly incomprehensible," said Sen. Jeff Bridges, the Greenwood Village Democrat who chairs the Joint Technology Committee.
On a related subject, Bridges asked if the online interface for lobbyists could be changed so that lobbyists would have to be more specific about their positions on bills. Currently, lobbyists must list whether they're supporting, opposing or monitoring a bill, or whether they want it amended.
"This last session, I saw something I've never seen before," Bridges said, "which is lobbyists opposing bills but signing up as 'amend' because really all they want is to strike the first line, 'Being enacted by the General Assembly' and then they're OK with the bill. And there were people that said they were in the 'amend' position but really did not at all support the bill unless the bill was completely changed."
Bouey said state law "requires lobbyists to pick one of those … options — supporting, amending or opposing. It doesn't necessarily go into very much detail as to what amending actually means. So we allow the lobbyists to pick that and define for themselves which category they fall into."
Melissa Kessler, director of law and policy for the secretary of state's office, said she would look into whether Bridges' suggestion could be done through rule-making or whether a law change is required.
Follow the Colorado Freedom of Information Coalition on Twitter @CoFOIC. Like CFOIC's Facebook page. Visit CFOIC's legislature page to track bills in the General Assembly that could affect the flow or availability of information in Colorado.