Update: Gov. Jared Polis signed HB 23-1182 into law on Wednesday, June 7.
By Jeffrey A. Roberts
CFOIC Executive Director
There will be no "presumptive" livestreaming of criminal trials and evidentiary hearings in state courts, but judges may allow those proceedings to be broadcast on Webex or another videoconferencing platform after considering several factors, a directive issued by Colorado Supreme Court Chief Justice Brian Boatright on Wednesday says.
Chief Justice Directive 23-02, which goes into effect May 15, coincides with the state legislature's consideration of a bill requiring Colorado courts to livestream open criminal court proceedings. House Bill 23-1182 passed the House Judiciary Committee last week.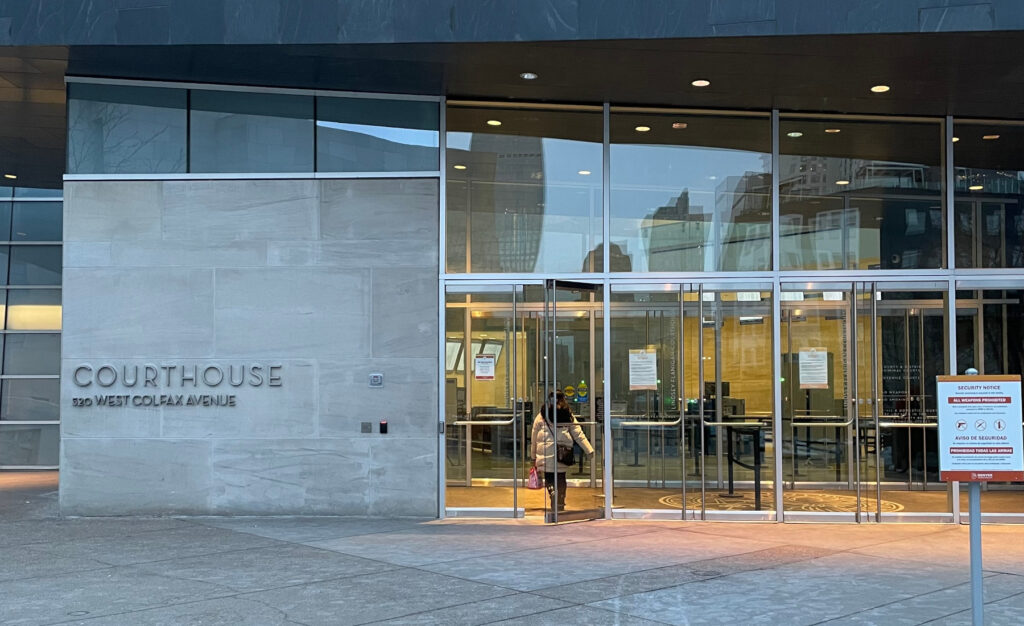 A draft version of the chief justice directive published in March did not permit the livestreaming of criminal trials and evidentiary hearings. Such a prohibition would have been "a radical departure from the status quo," First Amendment attorney and Colorado Freedom of Information Coalition president Steve Zansberg wrote in comments submitted to the judicial branch.
While the final version of the policy says "there shall be no presumptive" remote viewing of trials and evidentiary hearings, a judge could allow it after weighing multiple factors:
Whether livestreaming would interfere with a defendant's right to a fair trial.
Whether livestreaming would adversely affect attorneys, victims and witnesses.
Whether livestreaming would detract from the "solemnity, decorum, and dignity of the court."
Whether any prior violations of the directive or other court rules have occurred.
The level of public interest in a case.
Consideration of the Victim Rights Act, which allows a victim to be present in court via technology.
Consideration of the Americans with Disabilities Act, which allows deaf, hard of hearing and deafblind individuals to request communication-access services.
The directive mandates livestreaming of initial bond hearings. It also says proceedings will be livestreamed only if a courtroom has "suitable technology" and sufficient staff, and it prohibits audio and video recording of livestreamed court proceedings, as well as photos and screenshots, without permission from the court.
"We've heard loud and clear that throughout the pandemic, the public has come to appreciate and expect the ability to remotely observe proceedings in criminal cases," Boatright said in a news release. "This CJD will create as much consistency as we believe possible while allowing judicial officers enough flexibility to decide when circumstances in a specific case, or even in a specific hearing, do not favor live streaming."
Zansberg said CFOIC is "disappointed that the final CJD did not adopt a presumption in favor of livestreaming of criminal court proceedings, which could be overcome upon a finding that countervailing interests outweigh it in specific cases or circumstances."
"We're hopeful that House Bill 1182 will codify a statewide standard that is more protective of the public's ability to observe the functioning of our courts from afar, particularly after the numerous successful experiences of the past three years."
HB23-1182, as amended by the judiciary committee, lets a judge limit livestreaming after finding it likely would compromise a person's safety, a defendant's right to a fair trial or a victim's rights and "there is no less restrictive alternative that preserves the public interest in remote observation while mitigating the identified risk."
During testimony on the bill, James Karbach of the Office of the State Public Defender told lawmakers a statute would "govern" over a judicial policy if they were in conflict.
Follow the Colorado Freedom of Information Coalition on Twitter @CoFOIC. Like CFOIC's Facebook page. Visit CFOIC's legislature page to track bills in the General Assembly that could affect the flow or availability of information in Colorado.