Update: The Colorado House passed an amended version of HB 23-1259 on Friday, Apr. 14.
By Jeffrey A. Roberts
CFOIC Executive Director
State lawmakers Monday endorsed a bill that makes it harder for Coloradans to challenge inadequately announced closed-door meetings of school boards, city councils, county commissions and special district boards.
House Bill 23-1259, introduced by Reps. Gabe Evans, R-Weld County, and Lindsey Daugherty, D-Arvada, would let local public bodies fix or "cure" an executive session-announcement violation of the Colorado Open Meetings Law at their next meeting or at a meeting held at least 14 days after receiving notice from a person who intends to file a lawsuit.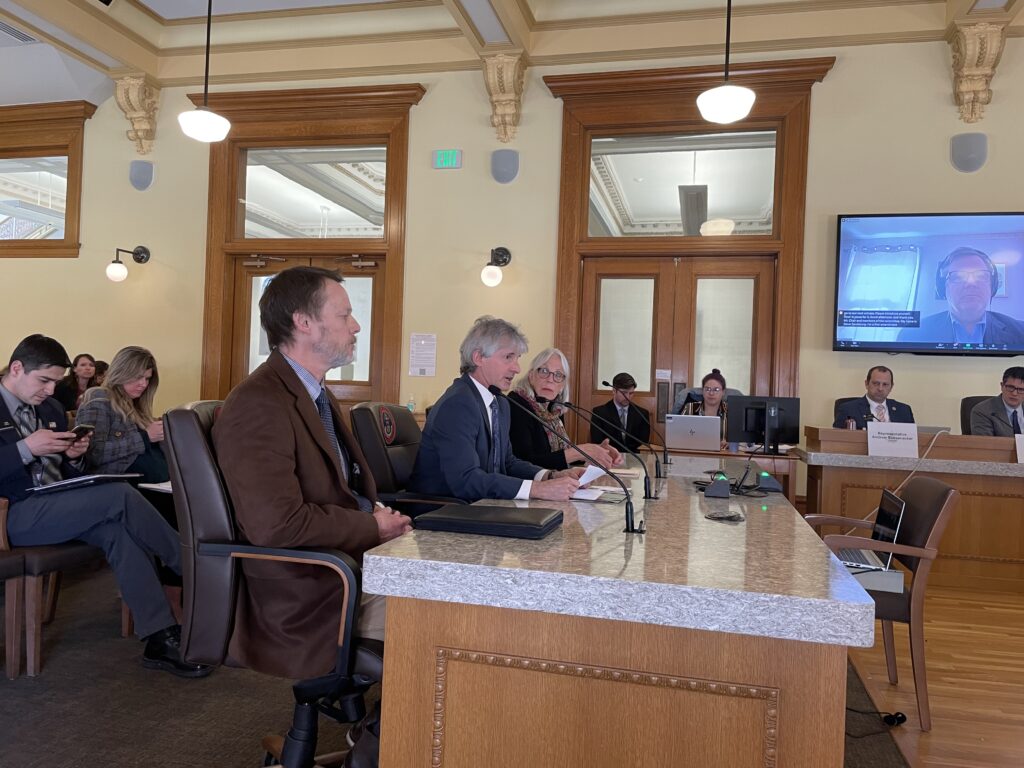 It also allows a public body to collect costs and reasonable attorney fees from someone who sues over an executive session announcement and loses in court.
First Amendment attorney Steve Zansberg, president of the Colorado Freedom of Information Coalition, testified against the bill, calling it "an overbroad and unjustifiable response to a very narrow and specific problem." Attorney Eric Maxfield, a CFOIC board member, told lawmakers the measure "uses an anvil to kill a flea' and "it allows intentional secrecy in violation of the law."
"It erects more barriers and more hoops for citizens to go through to hold elected officials accountable," said Elizabeth Steele of Colorado Common Cause, which in 1972 led the successful Colorado Sunshine Act citizen initiative that included the open meetings law. "And it gives local public bodies essentially a free pass to give inadequate notice of executive sessions."
"There's no incentive on their part to comply in the first instance," she added, "and the burden of knowing what's going on behind closed doors falls on the ordinary citizen."
Evans said House Bill 23-1259 is meant to help small government bodies that are "trying to do the right thing" but make "administrative errors or something like that" before going into an executive session. "You end up with a situation where taxpayer money can be expended in order to ensure that these open (government) laws are complied with. But you could have had that situation resolved n a much less costly manner that didn't involve litigation."
Since 2001, the open meetings law has required state and local public bodies to announce the topic of each executive session — prior to taking a vote to convene the private meeting — "in as much detail as possible without compromising the purpose for which the executive session is authorized." Mandating topic specificity provides community members with something more than a vague idea of why their elected officials are excluding them from a meeting. It gives the public a way to police whether public bodies might be straying from the law, and it gives public officials a framework for avoiding confidential discussions of unauthorized topics.
The Colorado Court of Appeals upheld the provision in 2020, ruling that Basalt town councilors violated the law by convening four executive sessions to discuss legal and personnel matters without telling the public specifically what they would be talking about.
HB 23-1259 is primarily aimed at Pagosa Springs attorney Matt Roane, who has filed 46 lawsuits over the past three years against school boards and other local public bodies, often alleging violations pertaining to executive session announcements. Roane has settled with many governments, typically for amounts of about $3,000.
"We understand the obligation under the law is to describe things with as much particularity as possible, and we're endeavoring to do that," testified Sonja McKenzie, representing the Colorado Association of School Executives. "But this is becoming problematic … This is just a gotcha so that someone can profit from it."
Roane, in his testimony before the House State, Civic, Military and Veterans Affairs Committee, noted that lawsuits filed by the public are the only way to enforce the open meetings law — "there is no governmental body that does it."
"You don't have a lawyer problem, you have a compliance problem, and what I've been doing is working," he told the committee, which passed the bill 9-2. "I know it's working because I'm putting myself out of business," Roane added. "Local governments "are getting much better" at complying with the law "solely because there is the threat of litigation."
HB 23-1259's requirement that losing plaintiffs pay a public body's attorney fees essentially grants immunity to local governments, he contended. "What citizen is going to risk a $40,000, $60,000 or an $80,000 legal fee just to get the government to do what it should have done all along?"
Under the open meetings law as currently written, a public body can be awarded costs and attorney fees only if a court finds that a lawsuit challenging any aspect of the statute was "frivolous, vexatious or groundless."
Zansberg had suggested to bill proponents a narrowly rewritten version of HB 23-1259 that would bar pro se plaintiffs like Roane from recovering attorney fees in open meetings lawsuits. But his proposal was not brought up by anyone on the committee Monday.
The CFOIC president likened the open meetings law to a Palisade peach tree, "and what we have is a fly that is sucking on the fruit of the tree. The bill, as proposed, lops off limbs of that tree to discourage a fly from eating its fruit." But a provision that would only bar attorney fees for a pro se plaintiff "would be a fly net or a much narrower way to protect the fruit of the tree that we all benefit from."
Under the bill, someone who wants to challenge an executive session announcement in court would need to notify the local public body at least 14 days before a meeting of the public body. Before that meeting, the secretary or clerk of the public body must meet or communicate with the person "to determine if the challenge can be resolved" without a lawsuit.
The committee removed a provision in the bill denying legal standing to anyone wanting to challenge an executive session announcement that a public body decided was "cured." Instead, if a public body brings up its "cure" before discovery (which never happens in open meetings law cases) a judge must quickly determine whether the cure was adequate.
The bill now heads to the House floor, where additional amendments are possible.
Follow the Colorado Freedom of Information Coalition on Twitter @CoFOIC. Like CFOIC's Facebook page. Visit CFOIC's legislature page to track bills in the General Assembly that could affect the flow or availability of information in Colorado.