By Jeffrey A. Roberts
CFOIC Executive Director
As amended by the Colorado House last week, an open meetings bill still significantly weakens Coloradans' ability to enforce a 22-year-old provision in the Sunshine Law requiring school boards and other local public bodies to announce the topics of closed-door meetings with some specificity.
Before passing House Bill 23-1259 on a 50-14 vote Friday, state representatives added a suggestion from Colorado Freedom of Information Coalition president Steve Zansberg that bars pro se litigants who challenge inadequate executive session announcements from collecting court costs and attorney fees. The language is designed to thwart a Pagosa Springs attorney who has represented himself in 46 open-government lawsuits over the past three years.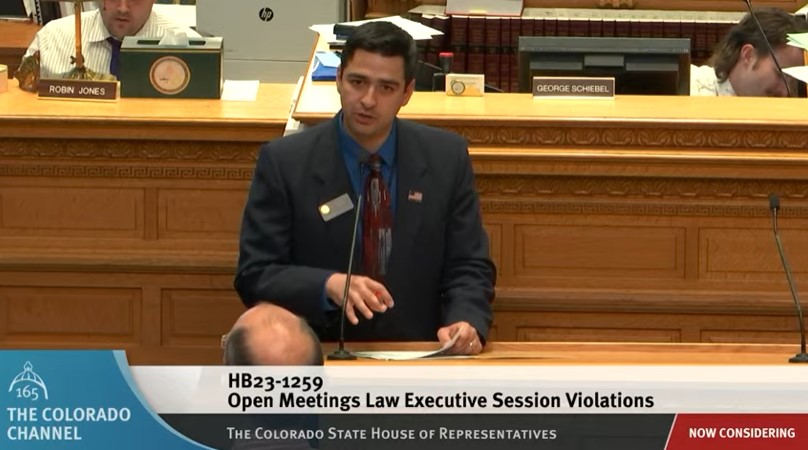 But the amended bill still lets local public bodies fix or "cure" insufficient executive session announcements and it awards court costs and reasonable attorney fees to local public bodies that are unsuccessfully sued over executive announcements — establishing a risky financial barrier for anyone interested in filing an accountability lawsuit. Under the Colorado Open Meetings Law as currently written, a public body can collect costs and attorney fees only if a court finds that a lawsuit was "frivolous, vexatious or groundless." But losing a lawsuit under HB 23-1259 could cost someone many thousands of dollars. (The civil courts are the only venue for enforcing Colorado's open-government laws.)
"This bill, as amended, is overbroad and unnecessary to deal with the problem of extortionate demands," said Zansberg, a First Amendment and freedom-of-information attorney. "The provision removing that financial incentive is all that is needed. The rest is a terrible so-called solution in search of a problem. It would essentially prohibit anyone from challenging violations by every school board, city council, board of county commissioners and special district in the state."
Sponsored by Reps. Gabe Evans, R-Weld County, and Lindsey Daugherty, D-Arvada, HB 23-1259 would let local public bodies "cure" an executive session-announcement violation of the open meetings law at a subsequent meeting. To have legal standing to challenge a violation, a person must provide written notice at least 14 days before a regular meeting of the public body. And prior to that meeting, the secretary or clerk of the public body must communicate with the person "to determine if the challenge can be resolved" without a lawsuit.
Another amendment added by the House limits a public body's ability to cure an improperly announced executive session if it has committed two previous violations of the announcement provision over a year's time.
Since 2001, the open meetings law has required state and local public bodies to announce the topic of each executive session — prior to taking a vote to convene the private meeting — "in as much detail as possible without compromising the purpose for which the executive session is authorized." Mandating topic specificity provides community members with something more than a vague idea of why their elected officials are excluding them from a meeting. It gives the public a way to police whether public bodies might be straying from the law, and it gives public officials a framework for avoiding confidential discussions of unauthorized topics.
During House floor discussion, Evans said HB 23-1259 was prompted by lawsuits against small municipalities and school districts that may not have an attorney on staff "to help them in writing and publishing and promulgating executive session notices. That creates a situation where that local public body thought they did the right thing, they thought they put out all of the information to which the community was entitled for the executive session, but they might have made a small typo or administrative error."
The Colorado Court of Appeals upheld the executive session announcement provision in 2020, ruling that Basalt town councilors violated the law by convening four executive sessions to discuss legal and personnel matters without telling the public specifically what they would be talking about.
House Bill 23-1259 now goes to the Colorado Senate for consideration.
Follow the Colorado Freedom of Information Coalition on Twitter @CoFOIC. Like CFOIC's Facebook page. Visit CFOIC's legislature page to track bills in the General Assembly that could affect the flow or availability of information in Colorado.