Update: The House concurred with Senate amendments and voted 60-5 to repass HB 23-1182 on Tuesday, May 2.
By Jeffrey A. Roberts
CFOIC Executive Director
A bill requiring Colorado courts to livestream open criminal court proceedings on Webex or another videoconferencing platform won unanimous approval in the House Judiciary Committee early Thursday morning.
Committee amendments added to House Bill 23-1182 are designed to address concerns about how the remote viewing of courts affects the sequestration of witnesses, victims' rights, defendants' rights, and the possibility some viewers will record or take screenshots of what happens on their computer screens.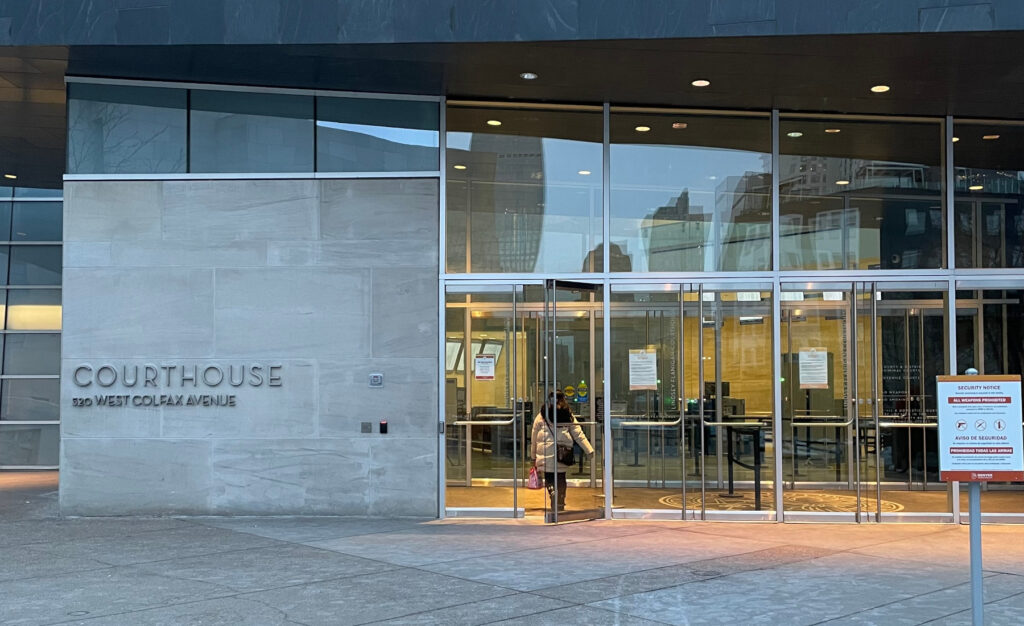 The legislation, introduced by Denver Democratic Reps. Elisabeth Epps and Javier Mabrey, heads to the House floor for debate at the same time Colorado's judicial branch is developing its own policy on virtual access to criminal court proceedings.
The bill is "a far better approach" than the proposed chief justice directive, testified media attorney Steve Zansberg, president of the Colorado Freedom of Information Coalition. Because the judicial branch's proposal as currently drafted would prohibit the livestreaming of trials and evidentiary hearings, it would be "a dramatic and unjustifiable step backwards from the status quo," he told lawmakers.
The use of Webex to broadcast court proceedings became widespread in Colorado after the COVID-19 pandemic struck in early 2020.
But now that the public health emergency has waned, some judges "are shutting down their cameras," said Rebecca Wallace, senior policy counsel for the Colorado Freedom Fund, which frequently monitors criminal courts. "The new normal," as Wallace described remote access, has been "a win for transparency, accessibility, public education and government accountability," she added.
"More eyes and ears on the judicial system enhances its overall integrity and builds trust with the public," testified Jeff Roberts, CFOIC's executive director. "Open courts are a cornerstone of American democracy and, at a time of growing distrust in our institutions, it's more important than ever for people to see and understand how the legal process works and to see for themselves whether the law is being applied fairly."
Journalist Susan Greene of Colorado News Collaborative told lawmakers that news organizations are frustrated by the lack of consistency and access to remote court proceedings, especially in rural parts of the state.
She noted "the increasingly wider swaths of news deserts in Colorado, where there are few — and in many cases literally no — journalists left to cover hearings and trials. And that often leaves Denver-based reporters scrambling all over the state trying to cover stories that once would have been covered locally."
From the perspective of people with disabilities, establishing a presumption that criminal courts will be livestreamed "should have been done a long time," said Jack Johnson, public policy liaison for Disability Law Colorado.
Remote access to work, legislatures and courts was "a huge win" for the disability community during the pandemic, he added, but "in the last year or so we have seen these policies consistently being rolled back. And for us, for the community that I work with and that I serve, it is disheartening, it is discouraging and flat-out ableist."
HB 23-1182 declares "it is the public policy of the state of Colorado to maximize transparency and accessibility of criminal court proceedings."
It requires all Colorado courts, including municipal courts, to livestream criminal proceedings conducted in open court unless a courtroom isn't equipped to do so or the public has been excluded by a judge's order.
Under the amendments — added before the bill passed 13-0 at 12:15 a.m. Thursday — a judge could limit the livestreaming of a proceeding after finding it would likely compromise a person's safety, a defendant's right to a fair trial or a victim's rights and "there is no less restrictive alternative that preserves the public interest in remote observation while mitigating the identified risk."
The bill says courts must "take reasonable steps" to ensure there is no audio or visual recording of proceedings without a judge's explicit permission. That might include verbal or on-screen warnings or prohibiting remote observation "by specific individuals whom the court has reason to believe may violate" the rule.
James Karbach, legislative liaison for the Office of the State Public Defender, asked legislators to preclude the presumptive broadcasting of evidentiary hearings and trials.
"I want to emphasize that broadcasting out to the entire world … is not a requirement of public courts in the Constitution and it's not the same thing as someone coming into a courtroom," he said. "There are benefits to that in terms of ease of access, but there are harms."
"In the context of sequestration, that means witnesses and participants not being able to tailor their testimony or learn things about the case," Karbach added. "We have seen many, many problems in the pandemic and we remain concerned."
Emily Tofte Nestaval, executive director of the Rocky Mountain Victim Law Center, also testified against HB 23-1182.
"In concept we agree that increasing transparency in our legal system is important for everyone," she said. "However, we do not believe this bill adequately addresses all the safety needs and privacy needs of crime victims."
Follow the Colorado Freedom of Information Coalition on Twitter @CoFOIC. Like CFOIC's Facebook page. Visit CFOIC's legislature page to track bills in the General Assembly that could affect the flow or availability of information in Colorado.