By Jeffrey A. Roberts
CFOIC Executive Director
Unlike last year's General Assembly, which amended both the open-records and open-meetings laws, state legislators in 2015 were somewhat quieter on matters affecting government transparency and the flow of information in Colorado.
Still, significant new measures are expected to be signed into law. A few others didn't make it.
Had it passed, the most sweeping freedom-of-information bill would have been Rep. Polly Lawrence's proposal to make the State Public Defender's Office subject to the Colorado Open Records Act (CORA). The Littleton Republican also sponsored a drone privacy measure that ultimately failed but was, for a few weeks, the most worrisome bill of the session for journalists and other First Amendment advocates.
Those same First Amendment advocates cheered passage of legislation that reinforces a civilian's right to record police with a cellphone, tablet or other device. HB 15-1290 was one of several police reform and transparency proposals, including a successful bill to promote the purchase of body-worn cameras by Colorado law enforcement agencies.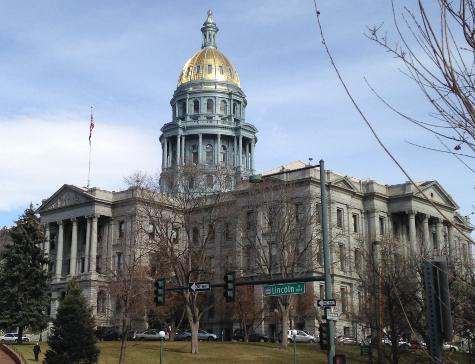 One of the most heavily debated and heart-wrenching of any bills this session sprung from a dearth of public information on the December 2013 shooting at Arapahoe High School. Named for slain student Claire Davis, SB 15-213 addresses the liability of school districts for acts of violence that lead to serious bodily injury or death. Awaiting action by Gov. John Hickenlooper, it includes provisions designed "to achieve robust and vigorous discovery of events leading to those incidents of school violence."
"Please don't make the next mother beg for answers to why her child was killed in a public school in the state of Colorado," Claire Davis' mother, Desiree Davis, testified during a Senate Judiciary Committee hearing.
The CFOIC tracked numerous bills in 2015, some of which still await action by the governor (for details on any or all of them, see the BillTrack50 widget on CFOIC's legislature page.) For those concerned about government transparency in Colorado, there were more winners than losers:
Right to record police
People in the United States already have a First Amendment right to record police activities as long as they're not interfering or doing anything illegal. Still, the sponsors of HB 15-1290 felt the need to reinforce that right because of recent incidents in Colorado and in other states.
Just this week, the American Civil Liberties Union of Colorado announced that it will represent two Colorado Springs men it says were victims of racially biased policing during a traffic stop. One of the men who recorded the incident faces a criminal charge for "interfering with official police duties." The ACLU says that officers took Ryan Brown's phone, turned off the video and threw it in the snow.
That's the kind of behavior HB 15-1290 is intended to stop. Assuming Hickenlooper signs the measure, it will spell out a process for an officer to follow if he or she wants to obtain a recording made by a bystander and will allow for a civil suit against a law enforcement agency if an officer seizes or destroys a recording without a person's consent.
Other police transparency measures
The bill to create a grant program for body-worn police cameras, HB 15-1285, inexplicably died in the Senate Appropriations Committee last Friday (General Fund cost: about $90,000) but was resurrected (also without discussion) on Monday and sent to the governor's desk on Wednesday. A study group, created by the bill to recommend policies on questions such as video retention and access, will include a government transparency advocate.
The legislature also passed other transparency measures aimed at rebuilding the public's trust in police: SB 15-219 requires a district attorney who declines to file criminal charges in an officer-involved shooting to disclose his/her reasoning to the public and SB 15-217 requires the collection of demographic data on officers and victims involved in police shootings.
Criminalizing photography
Concerned about protecting peoples' privacy from drones and other emerging technologies, the House amended HB 15-1115 so that it created a class 3 misdemeanor for "knowingly and intentionally" photographing or otherwise recording another person without consent in situations where that person has a reasonable expectation of privacy.
A Senate committee amended the legislation again, realizing that making photography a crime in some circumstances raised First Amendment concerns for photojournalists and others. Ultimately, however, one of the bill's co-sponsors asked that it be killed on the penultimate day of the session.
"In trying to strike that balance between allowing the use of these image-capturing and sound-capturing devices and respecting the privacy of individual citizens, we haven't gotten there," said Sen. Kevin Lundberg, R-Berthoud.
State public defender's records
A 2012 Colorado Court of Appeals decision, which exempted the state judicial branch from CORA, led to the introduction of HB 15-1101, intended to open the administrative records of the state public defender. Some hoped the measure would help to reveal how much Colorado Public Defender Doug Wilson has spent to keep Aurora movie theater shooter James Holmes from the death penalty (Wilson has repeatedly denied requests for such expenditure records).
The bill, however, didn't last long. Democrats on the House Judiciary Committee voted it down, arguing that it unfairly targeted judicial branch offices that represent indigent people.
School violence reporting
Like the school district liability bill, HB 15-1273 was prompted, at least in part, by Claire Davis, whose murder was omitted from Arapahoe High's school violence report because of a clerical error. The measure, sent to the governor Wednesday, is intended to improve the reporting of safety and disciplinary violations at Colorado schools, requiring that data be compiled by the state Division of Criminal Justice and adding acts of sexual violence and unlawful use of marijuana as required reporting categories.
Incidents at youth corrections facilities
HB 15-1131, also awaiting action by the governor, requires the Department of Human Services to release information related to critical incidents at youth corrections facilities, with identifying information redacted.
Last year, journalists at The Gazette were denied access to records regarding fights at the Spring Creek Youth Services Center in Colorado Springs, even though they specifically asked that the identities of juveniles be blacked out. The attorney general's office told the newspaper that state law made all records of the Division of Youth Corrections "privileged and confidential."
Growing CORA caseload
The $25 billion budget bill passed by the legislature this session includes a small appropriation for a new lawyer in the Attorney General's office to help with a growing number of requests for public records.
"CORA has become a constant legal challenge with requests becoming increasingly broad, multi-faceted, and litigious," said Carolyn Tyler, the AG's communications director.
Multiple booking photos
A bill from 2014 created minor headaches for news organizations that request booking photos, requiring them to promise each time that they would not post a mug shot online and then charge someone a fee to remove it. HB 15-1137, which was signed into law, allows them to sign one statement – good for multiple booking photos – once a year.
Transportation transparency
SB 15-172 would have codified public notice and other transparency provisions that Hickenlooper implemented via executive order last year after vetoing a broader bill on the use of public-private partnerships to finance transportation projects. This year's measure died in the Senate Transportation Committee.
CORA and private organizations
SB 15-083 would have made private organizations subject to CORA if they receive funding directly from governments on behalf of government employees. It was killed in the Senate Judiciary Committee.
Sealing criminal records
A House voice vote defeated HB 15-1061, designed to close a loophole that allows the sealing of domestic violence-related convictions in five cities. Most domestic violence cases are heard in county courts and are not eligible for sealing.
The House Local Government Committee killed another bill, HB 15-1263, that would have let one-time offenders petition to seal the public records of their misdemeanor crimes.
Whistleblower information
A bill intended to shield state government whistleblowers, SB 15-275, died on the Senate floor after considerable outcry from state agency officials.
The proposal, pushed by legislative leaders from both parties, was intended to make it easier for whistleblowers to share confidential information with state lawmakers without fear of reprisal. Although the bill specified that information currently confidential under CORA would remain confidential, opponents warned that it would make such information vulnerable to security breaches.
Fiscal statements for initiatives
HB 15-1057, approved on the last day of the session, requires that a fiscal impact statement be prepared for each statewide ballot initiative submitted to the title board. Currently, fiscal statements are prepared for the "blue book" that is sent to voters after initiatives make the ballot. Opponents said the measure will make the initiative process more difficult.
School district financial transparency
The Senate Appropriations Committee voted down HB 15-1339, which would have required school districts to submit expenditure information to the state Department of Education for posting on the department's financial transparency website.
Special district transparency
HB 15-1092, which was signed into law, requires special districts to file certain information with the state Division of Local Government, including resolutions to adopt budgets, appropriate money and fix mill levy rates.
Follow the Colorado Freedom of Information Coalition on Twitter @CoFOIC. Like CFOIC's Facebook page. Visit CFOIC's legislature page to track bills in the General Assembly that could affect the flow or availability of information in Colorado.