By John Fosholt
CFOIC Vice President
While the Colorado legislature has dismissed several attempts to regulate unmanned aerial systems (UAS) statewide, some local jurisdictions have tackled drone issues related to privacy, public safety and wildlife protection.
Meanwhile, aerial "eyes in the sky" increasingly are being used by news organizations, professional photographers, real estate agents and amateur drone enthusiasts.
In February, a homeowner's association in Jefferson County banned the use of drones "in, on or over" any property owned by the HOA and the surrounding metropolitan district. Boulder County recently prohibited drone activity in parks and open space except "for activities that contribute to the understanding or management of Boulder County properties or resources."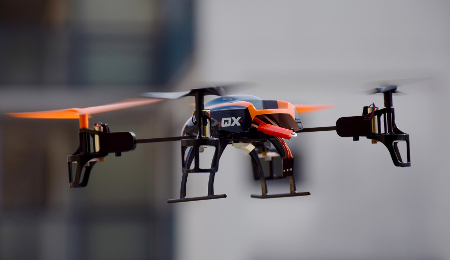 The Town of Vail will soon consider an ordinance to require permits to operate UAS "from, upon or above property owned, operated or maintained by the Town."
Perhaps the boldest declaration came from Cherry Hills Village, which proclaims its own "City Airspace" to protect horses, as well as human, residents.
The Cherry Hills Village council adopted its policy in December because of concerns that drones would be used to invade the privacy of famous athletes and their families. Mayor Laura Christman also said drones might frighten horses on the city's equestrian properties.
"These things (drones) are not safe," she told the city council.  "They have a battery of about an hour and a half, and then they fall out of the sky."
Other jurisdictions, however, are starting to back off previously adopted drone restrictions. Jefferson County Parks and Open Space is reconsidering its policy because of a recent memorandum from the Federal Aviation Administration about local regulations.
"Substantial air safety issues are raised when state or local governments attempt to regulate the operation or flight of aircraft," the FAA wrote. The agency warned against a "patchwork quilt" of differing restrictions.
The memorandum said local governments have the authority to regulate UAS on land, including the launch or landing of drones. But when it comes to the "navigable airspace" above those communities, the FAA has sole authority.
One difficulty is the definition of navigable airspace. For airplanes, it is at least 1,000 feet above the highest obstacle on the ground. But for helicopters or other modern aircraft – including drones – it may include what the FAA calls "Class G Airspace," from 500 feet down to ground level. The FAA is considering that issue.
Meanwhile, a federal court is contemplating the question of where private property ends and public airspace begins. In January, John David Boggs sued his neighbor William Meredith for shooting down Boggs' drone when it passed over Meredith's home in Kentucky. One question is whether the airspace belongs to the public or to Meredith.
All of this can be confusing for communities reacting to changing times. "We're trying to be proactive about the new technology," said Chris Pacetti, director of the homeowners' association for Ken-Caryl Ranch in Jefferson County. "We're getting calls from people who own or are buying drones, and they're asking for clarification about where they can use them."
Pacetti said the HOA primarily is concerned about safety because some larger drones can cause significant damage if they crash, and guidance is needed for rangers patrolling the community's 6,000 acres of open space. He said the HOA plans to be reasonable about drones that might stray over community grounds while shooting video for real estate agents or news organizations.
Colorado Springs' Fox21, one of the nation's first television stations to be licensed for drone photography, is using its drone cautiously.
"Every time we've used it we have asked land owners if we could take off from their property and so far everyone has said yes," news director Joe Cole told us.  "We've had to break the notion that we will be flying into peoples' backyards and spying on them." Cole said the station hasn't yet encountered any communities that ban drones.
Television news stations in Denver aren't yet employing drone photography, but "it's obviously an intriguing concept," KUSA-TV assistant news director Tim Ryan said. He said the station has not commissioned video from independent drone photographers, and it has broadcast only a few images of weather-related events from drone cameras.
The Denver television media have long depended upon news helicopters to provide aerial images, and Ryan recalls few complaints. "I'm not aware of any formal complaint from a community group or homeowners' association, although individuals living near news events have occasionally complained about the noise from news copters."
So what is it about drones that evoke public reaction and government regulations?
"People are just afraid of this new technology," said professional drone photographer Vic Moss of Lakewood. But when he meets people while flying his drones, he added, "the vast majority decide this is kind of fun and it's not threatening."
Moss has been tracking drone regulations around the country and knows of no litigation against drone operators in Colorado. But he told us operators are facing civil litigation in Arizona and have been criminally prosecuted in Los Angeles.
He hopes to avoid that problem in Colorado, with the help of FAA protections. "Communities cannot just ban over flights of their property," Moss said. "They're just going to get in trouble with the FAA."
John Fosholt is a retired investigative news producer for KUSA-TV in Denver.
Follow the Colorado Freedom of Information Coalition on Twitter @CoFOIC. Like CFOIC's Facebook page. Do you appreciate the information and resources provided by CFOIC? Please consider making a tax-deductible donation.