By Jeffrey A. Roberts
CFOIC Executive Director
A Kiowa resident and Elbert County have settled a lawsuit alleging that county commissioners violated Colorado's Sunshine Law last spring.
As part of the agreement, the board of commissioners repealed a resolution authorizing the county to reimburse Commissioner Robert Rowland for a $1,000 fine assessed against him in 2014 for promoting a county ballot measure in violation of the state Fair Campaign Practices Act.
The board approved the resolution on Apr. 8, 2015, without giving the public advance notice that it would be considered, Richard Brown claimed in his pro se suit. He alleged that another resolution, involving a federal lawsuit filed by a former county employee, also should have been on the agenda that day.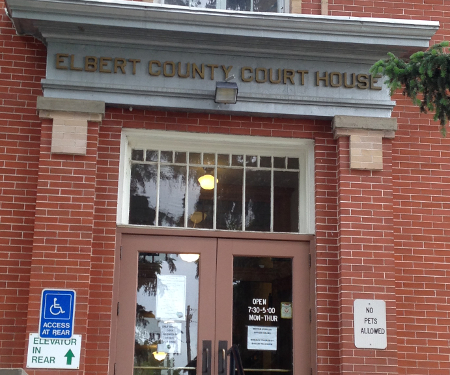 Instead, the agenda merely referenced "new business" to be considered after an executive session and didn't describe the nature of the new business. The resolutions should have been on the agenda at least 24 hours prior to the meeting, Brown asserted, because they were prepared prior to the executive session and the commissioners knew they would come up for discussion.
The state Open Meetings Law (the Sunshine Law) says that a meeting notice should be "full and timely" and include "specific agenda information where possible."
While the statute doesn't specify what "full and timely notice" means, the Colorado Supreme Court in The Town of Marble v. Darien (2008) said "a notice is sufficient as long as the items actually considered at the meeting are reasonably related to the subject matter indicated by the notice…" The Court also said that, in determining whether a notice is "full," it should be interpreted "in light of the knowledge of an ordinary member of the community to whom it is directed."
An amended complaint filed by Brown, a retired lawyer and former Elbert County planning commissioner, also demanded that Rowland repay the county the $1,000 it had reimbursed him. Rowland did so in December and later announced that he won't seek re-election.
The settlement agreement says that Rowland and the county commission "expressly deny liability or any wrongdoing." The agreement is "solely for the purpose of avoiding the costs of further litigation," it states.
Elbert County also agreed to pay Brown $300 for his out-of-pocket court costs.
Follow the Colorado Freedom of Information Coalition on Twitter @CoFOIC. Like CFOIC's Facebook page. Do you appreciate the information and resources provided by CFOIC? Please consider making a tax-deductible donation.