By Jeffrey A. Roberts
CFOIC Executive Director
Lawyers argued in the Colorado Court of Appeals this week over whether Colorado's Peace Officer Standards and Training board is a criminal justice agency or an agency subject to the Colorado Open Records Act.
That legal distinction matters in a lawsuit brought by The Gazette, Gazette reporter Chris Osher and the Chicago-based Invisible Institute that seeks public disclosure of the state's database of certified and decertified law enforcement officers.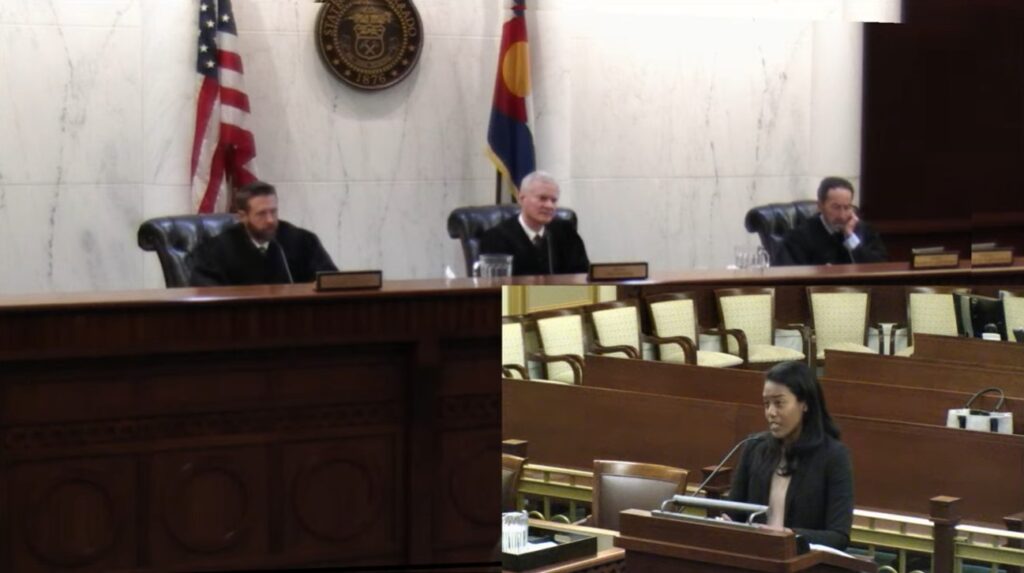 A three-judge panel of the Court of Appeals will decide whether Denver District Court Judge J. Eric Elliff in 2021 properly ruled that POST is a criminal justice agency subject to the Colorado Criminal Justice Records Act, rather than CORA. Elliff then determined the Colorado Attorney General's office, where POST is housed, did not abuse its discretion under CCJRA to keep the database confidential.
CCJRA permits criminal justice agencies to withhold many records after conducting a balancing test of interests. If CORA governed the release of POST records, disclosure of the database would be subject to a provision entitling requesters to copies of public records in "sortable" and "searchable" formats with any confidential fields of information removed.
In court briefs and in oral arguments Tuesday, media attorney Rachael Johnson of the Reporters Committee for Freedom of the Press contended POST — which manages the certification and training of peace officers in Colorado —is a regulatory licensing agency that does not fit CCJRA's definition of a criminal justice agency.
Criminal justice agencies, the law says, perform activities "directly relating to the detection or investigation of crime; the apprehension, pretrial release, posttrial release, prosecution, correctional supervision, rehabilitation, evaluation, or treatment of accused persons or criminal offenders; or criminal identification activities or the collection, storage, or dissemination of arrest and criminal records information."
While POST keeps records for criminal background checks on peace officers and prospective officers, many other state agencies that license professionals also require background checks and aren't considered criminal justice agencies, Johnson noted.
"In order for the dental board, for example, to review the criminal history information of a potential dentist candidate, they would have to collect the information," she said.
Brittany Zehner, attorney for POST director Eric Bourgerie, acknowledged that many state agencies subject to CORA also collect criminal records for licensing purposes. Whether they meet the definition of a criminal justice agency "would depend on the particular agency and what records it actually does collect if it does have to engage in those activities," she told the appellate court judges.
"In those cases, it could be more of a fact-specific question," Zehner added. "But I think the language in the statute is clear, that any agency that collects, stores or disseminates this kind of information meets the definition of the statute."
"So under your argument," Court of Appeals Judge Lino Lipinsky de Orlov responded, "any agency that collects criminal records information as part of a background check is a criminal justice agency, and therefore, is no longer subject to CORA, right? Wouldn't that drive a huge hole through CORA?"
Zehner noted that the state Department of Education, which generally is subject to CORA, is explicitly also defined in CCJRA as a criminal justice agency. "The only activity it conducts under this definition in the statute is the collection, storage and dissemination of criminal arrest and history records," she said.
Lipinksy de Orlov also asked Zehner whether the public has a compelling interest in knowing which officers in the state are POST certified.
"I don't think we dispute at all that there is a public interest in understanding the certification or decertification of police officers," she said. "And the (records) custodian testified to that effect. She testified that was a factor she considered."
In his October 2021 district court ruling, Elliff noted that Chief Deputy Attorney General Natalie Hanlon Leh, as the records custodian for the AG's office and the POST board, testified that she considered the public interest but found it did not outweigh other factors such as the privacy and safety of law enforcement officers, the possible undermining of undercover investigations and the time and effort required to pull records from the database and redact fields of personal information like officers' home addresses and cell phone numbers.
"I have to say, I don't view this as a paragon of discretionary review, but discretionary review it was," Elliff said at the time. "I find that there is credible evidence in the record that the Attorney General … adequately considered the public interest and concluded, based on these other issues, that they would be unable to produce the records."
The database sought by The Gazette and Invisible Institute is separate from a relatively new online database, maintained by POST, of information related to an officer's untruthfulness, failure to follow POST board training requirements, certification revocation, termination for cause, or resignation or retirement while under investigation.
Follow the Colorado Freedom of Information Coalition on Twitter @CoFOIC. Like CFOIC's Facebook page. Do you appreciate the information and resources provided by CFOIC? Please consider making a tax-deductible donation.