Update: The House voted 33-29 on Tuesday, Feb. 26, to send HB 19-1119 to the Senate.
​​By Jeffrey A. Roberts
CFOIC Executive Director
Following an hour-long floor debate Monday, the Colorado House gave preliminary approval to legislation that would open records on completed police internal affairs investigations.
"Hiding the files is not the answer," said Rep. Leslie Herod, D-Denver, talking about the problem of "bad" law enforcement officers. "Families, communities deserve to see this information, deserve to have this information when requested and when appropriate."
Stressing that the current statutory system for disclosure "is not working," Rep. Mike Weissman read from a 2018 University of Denver law school study which found that many police departments and sheriff's offices in Colorado routinely reject records requests for internal affairs files, often without conducting a balancing test of interests set forth by the Colorado Supreme Court.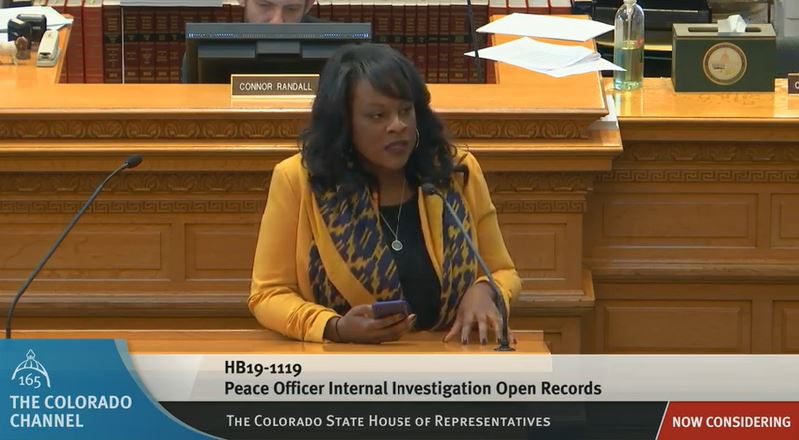 The Colorado Criminal Justice Records Act gives agencies the discretion to withhold internal affairs records if they conclude disclosure would be "contrary to the public interest," the Aurora Democrat noted. "The problem is that for many years that exception has been swallowing the entire rule."
Similar to a bill that didn't make it through the legislature last year, House Bill 19-1119 would require the release of records that pertain to a law enforcement officer's in-uniform or on-duty conduct once an internal investigation is complete and after any related criminal case is over. A requester would have access to records "related to a specific, identifiable incident of alleged misconduct involving a member of the public" with certain redactions either required or allowed.
Law enforcement agencies would be permitted to first provide a summary before giving access to an entire internal affairs file. This would be like the Denver Department of Public Safety's practice of releasing disciplinary orders and letters that contain detailed summaries of an investigation. It is the only agency in the state that regularly discloses such internal affairs information.
Rep. Terri Carver, R-Colorado Springs, spoke against the bill, calling it "extraordinarily dangerous and damaging to the internal investigation process." She said the legislation would affect the willingness of police officers and witnesses to be candid during an investigation, knowing that their statements would eventually be released to the public.
The bill requires the redaction of information identifying informants, victims and witnesses, and it allows agencies to black out the identities of officers who participated in an internal investigation but weren't the subject of the investigation. Even so, Carver said, "you can still figure out who is giving the statement."
Carver said the current law "does work," allowing anyone denied access to an internal affairs record to go to court and "assert the public interest." But Rep. Adrienne Benavidez, D-Commerce City, said most people can't afford to take public records cases to court.
Benavidez called HB 19-1119 "an important change that balances the public interest against private interests, and it does it very, very carefully."
Rep. Dave Williams, R-Colorado Springs, also encouraged fellow lawmakers to support the bill, noting that his city and others have paid hundreds of thousands of dollars to settle police misconduct allegations but still won't release related internal affairs records to the public.
"If we are going to be paying out taxpayer money to settle these cases, then we have absolutely every right to see what's in those files," Williams said.
HB 19-1119 faces a final House vote before it can be heard in the Senate. The bill is supported by the Colorado Freedom of Information Coalition, the American Civil Liberties Union of Colorado, the Colorado Press Association, the Colorado Broadcasters Association, Colorado Common Cause and the Independence Institute.
Follow the Colorado Freedom of Information Coalition on Twitter @CoFOIC. Like CFOIC's Facebook page. Do you appreciate the information and resources provided by CFOIC? Please consider making a tax-deductible donation.