Update: The Colorado House passed HB 19-1201 on a 65-0 vote on Wednesday, March 6.
By Jeffrey A. Roberts
CFOIC Executive Director
Bipartisan legislation designed to fix an "unintended consequence" of the 2014 ballot initiative that opened school district bargaining sessions to the public won unanimous approval Tuesday in the House Education Committee.
House Bill 19-1201 clarifies that school boards can hold private executive sessions to develop negotiating strategies related to collective-bargaining agreements.
Although the Colorado Open Meetings Law allows closed-door meetings to discuss negotiating strategies, some school boards stopped that practice after the passage of Proposition 104 because they weren't certain it was legally permitted under the new, voter-approved provision.
"I fully agree that employee negotiations should be held in public," said Rep. Cathy Kipp, D-Fort Collins, one of the sponsors of HB 19-1201. "… But an unintended consequence of Proposition 104 is that it created confusion about whether school boards could meet in executive session with their school district superintendent and staff for the purpose of discussing and establishing negotiating positions."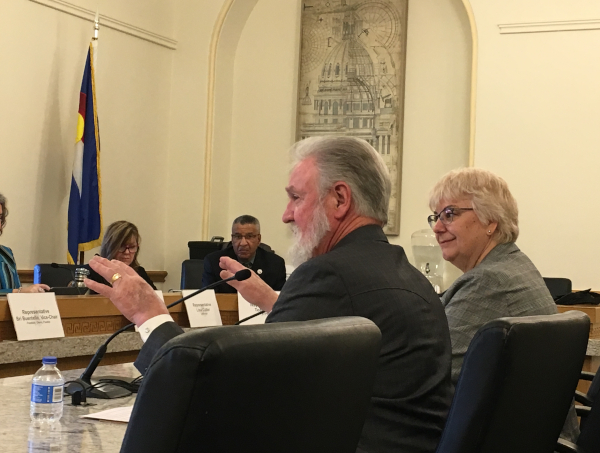 Kipp, a former member of the Poudre School District board, noted that employee groups are permitted to meet privately to discuss collective-bargaining strategies. For school boards, said co-sponsoring Rep. Jim Wilson, R-Salida, the current situation is like playing poker "where the other side already knows where you are, where you're coming from, what you're dealing with, and it's not really negotiations … Needless to say, knowing what the person on the other side of the table has for a hand makes the game a little lopsided."
Kristen Draper, a Poudre school board member, testified that the bill "brings fairness to school boards and school districts, provides for the most effective management and stewardship of tax dollars and still maintains the intent and requirement of an open negotiation process through the Colorado Open Meetings Law."
The Colorado Association of School Boards and the Colorado Association of School Executives support HB 19-1201. Amie Baca-Oehlert, president of the Colorado Education Association, said the teacher's union also favors allowing school boards to discuss negotiating strategies behind closed doors, but she encouraged lawmakers to work on amendments to prevent further confusion about what is allowable.
Seventy percent of voters approved Proposition 104 in November 2014. The Independence Institute proposed the measure, but no one from the conservative, libertarian-leaning organization testified on the bill Tuesday.
Before the 2014 election, the "Blue Book" sent to voters by Legislative Council said it was "unclear" whether Proposition 104 would require school boards to discuss their negotiation strategies in public. Jon Caldara, president of the Independence Institute, told the Colorado Freedom of Information Coalition at the time the measure still allowed "for sufficient strategies for a school board to privately provide instructions to negotiators on the limited occasions where necessary. Otherwise, we believe that meetings regarding negotiations should be transparent and open."
HB 19-1201 goes to the House floor next.
Follow the Colorado Freedom of Information Coalition on Twitter @CoFOIC. Like CFOIC's Facebook page. Visit CFOIC's legislature page to track bills in the General Assembly that could affect the flow or availability of information in Colorado.