By Jeffrey A. Roberts
CFOIC Executive Director
New research makes a case for reforming Colorado's criminal justice records statute to require the public release of files on completed internal affairs investigations concerning law enforcement officers accused of wrongdoing.
"Access Denied," a study released Tuesday by University of Denver law students Bridget DuPey and Christopher McMichael and law professor Margaret Kwoka, found that Colorado police departments and sheriff's offices routinely reject public records requests for internal affairs (IA) files, leaving Coloradans "largely in the dark with regard to allegations and investigations of police misconduct."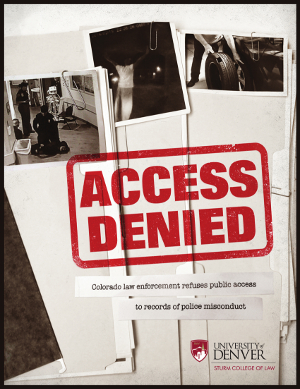 Even though the Colorado Supreme Court has required law enforcement agencies to perform a balancing test for each records request, weighing public and private interests on a case-by-case basis, records custodians "generally deny all requests for files irrespective of the nature of the alleged misconduct or the outcome of the investigation," says the report from DU's Sturm College of Law.
"Many Colorado law enforcement agencies simply are unwilling to provide the public with such files, instead finding that the officer's privacy interests and other considerations categorically outweigh the public's interest in disclosure," the researchers concluded. "This systematic denial of requests for files results in a lack of transparency and does not allow the public to hold law enforcement accountable for their actions."
Kwoka and the law students suggest that Colorado should follow the lead of Georgia and at least 11 other states that require the disclosure of police IA files after an investigation has been completed. "Without such legislation," their report contends, "the public will remain in the dark … when it comes to police conduct."
A bill is expected in the Colorado legislature this session. Rep. James Coleman, D-Denver, told the Colorado Freedom of Information Coalition he plans to introduce a measure to require the public disclosure of records that examine a law enforcement officer's on-duty performance after certain private information has been redacted.
The release of law enforcement IA files is governed by the Colorado Criminal Justice Records Act (CCJRA), which gives agencies broad discretion to withhold most of their records if they determine that disclosure would be "contrary to the public interest."
In making that determination, the Colorado Supreme Court in a 2005 decision said records custodians should balance "pertinent factors," which include the privacy of individuals, the public interest in allowing inspection of the records and the agency's interest in pursuing ongoing investigations without compromising them.
In a subsequent ruling, the Colorado Supreme Court encouraged law enforcement records custodians to use redaction "to provide the public with as much information as possible, while still protecting privacy interests when deemed necessary."
Kwoka and the law students requested files from 43 law enforcement agencies on internal affairs investigations conducted in 2015 and 2016, later requesting records from some earlier cases as well.
First, they asked for any lists, logs or summaries showing IA investigations. More than half of the agencies rejected their requests or did not respond to their inquiries. DU deemed responses from only 10 agencies to be "substantially transparent" or "moderately transparent," meaning the researchers were given logs with at least some detail on the cases. Another seven agencies were "minimally transparent," providing a general list of investigations but no information on the nature of those investigations.
From those 17 agencies, the researchers requested 61 specific IA files but were unable to obtain a single completed file. Seven agencies did not respond to their requests and seven others "flatly denied" them. One provided a summary it had previously sent during DU's first wave of requests. Two agencies "appeared willing to consider the release of the actual files" but each wanted to charge the researchers a four-figure fee, making the records requests cost prohibitive.
The study highlights some high-profile cases of police misconduct in which internal affairs files were not released.
One such case involved Alexis Acker, who was paid $100,000 by the city of Colorado Springs in 2016 to settle the lawsuit she filed against an officer who slammed her to the floor, face-first, while she was handcuffed in a hospital waiting area. The impact broke a tooth and bloodied her face. Acker, 18 at the time, had been arrested for assault on an officer and was taken to the hospital before being jailed.
An internal investigation of the incident, which was captured on video, led to some of type of discipline of the officer that the Colorado Springs Police Department has not disclosed. The department rejected the Colorado Springs Independent's requests for the records and did not respond to DU's requests, the report says.
In another case, the city of Aurora paid Darsean Kelley $110,000 to settle his claims against a police officer who tased him the back in February 2016, causing him to fall straight back and hit his head on the concrete. Aurora police found that the officer's actions were within policy, even though Kelley "had done nothing wrong and was not a suspect sought by the police," wrote the researchers, who were denied the department's IA file on the incident.
"As such, the City of Aurora denied the public the opportunity to know how the city justified such a significant expenditure of taxpayer money and yet found no officer wrongdoing," their report says.
"To increase police accountability and transparency," Colorado should consider adopting a records law like those in Georgia and Wisconsin, the DU researchers wrote.
Georgia, they noted, requires law enforcement agencies to release employee disciplinary records once an investigation has been closed for at least 10 days. Wisconsin constrains the release of internal affairs files while an investigation is ongoing, but requires disclosure once an investigation has concluded.
At least 10 other states, the DU report says, have enacted similar policies "that show a public interest exists in releasing these files."
Police officer disciplinary histories are effectively confidential in nearly half of the states, either because agencies routinely withhold them or the law explicitly exempts the records from public inspection, according to a study by New York public radio station WNYC. The public has limited access to such records in 15 states.
Follow the Colorado Freedom of Information Coalition on Twitter @CoFOIC. Like CFOIC's Facebook page. Visit CFOIC's legislature page to track bills in the General Assembly that could affect the flow or availability of information in Colorado.