Update: HB 19-1324 passed the Senate 35-0 on Friday, May 3, and was sent to the desk of Gov. Jared Polis.
By Jeffrey A. Roberts
CFOIC Executive Director
A bill that would protect Coloradans from meritless lawsuits intended to silence criticism won approval Tuesday in a committee of the state legislature.
House Bill 19-1324 would add Colorado to a list of nearly 30 states with anti-SLAPP statutes that provide a process for the early dismissal of civil cases filed against people who are exercising their First Amendment rights of free speech or freedom to petition the government.
SLAPP, a term coined in the 1980s by two University of Denver law professors, stands for strategic lawsuit against public participation.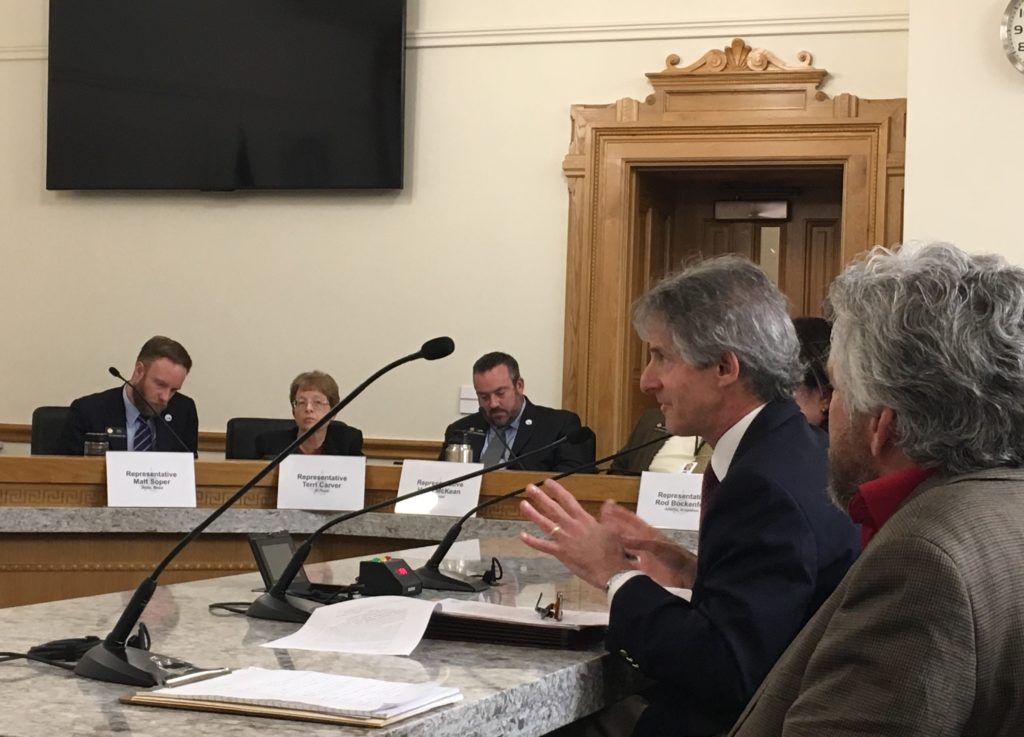 "We have a compelling state interest in protecting peoples' free speech, and we also have a compelling state interest in preventing our courts from being used abusively to chill peoples' exercise of free speech," said Rep. Shannon Bird, a Westminster Democrat who is sponsoring the bill in the House with Rep. Lisa Cutter, a Littleton Democrat.
Colorado currently has "weak" anti-SLAPP protections, according to the Public Participation Project, which stem from a 1984 Colorado Supreme Court ruling in a case involving an environmental group's right to petition for redress of grievances.
HB 19-1324, modeled after California's anti-SLAPP law, establishes an expedited court process in which a defendant in a civil action can file a special motion to dismiss the case based on an assertion that the lawsuit arose from the exercising of his or her constitutional right of petition or free speech.
The measure allows for an interlocutory appeal, meaning a case can be halted and immediately appealed to a higher court before the expenses of the discovery process are incurred. It also lets a defendant who prevails on a special motion to dismiss recover attorney fees and court costs.
The House Judiciary Committee, which passed the bill on a 10-1 vote, heard from several people who have been the targets of SLAPP suits. One of them was Paonia environmental activist Pete Kolbenschlag, who was sued for libel by a Texas-based oil and gas company after he posted a critical comment on the website of the Glenwood Springs Post Independent.
A Delta County District Court judge eventually dismissed the case, finding that Kolbenschlag's comment was "substantially true" and that the lawsuit was "vexatious" and filed in retaliation against the activist. The judge's decision to award Kolbenschlag attorney fees is on appeal, "so now, more than two years later, I'm still held under the thumb of this frivolous and vexatious action against me," he testified.
The lawsuit has caused "a number of hardships to me," Kolbenschlag said. "It's impacted my ability to do business. It's impacted my finances. It's caused me huge stress levels and has taken hundreds of hours of my time."
Because he expects to prevail at the appellate level, Kolbenschlag told lawmakers that HB 19-1324 "is not for me. This is for people who come after me and people who look to my case and also want to speak up for issues that are important to them and are important to the public and their communities and not be shut down by vexatious, intimidating and costly … actions."
Kolbenschlag is represented in his case by attorney Steve Zansberg, who is president of the Colorado Freedom of Information Coalition and who also spoke in favor of HB 19-1324 on behalf of the Colorado Press Association and the Colorado Broadcasters Association.
Zansberg said SLAPP suits are a growing problem, not just for the public but also for news organizations. "SLAPPS are filed to punish speakers through protracted legal proceedings," he said. "They cost a tremendous amount of money to defend and it's often extremely wealthy people or well-heeled corporations that bring such suits because they can easily afford their own attorney's fees."
He cited a case in which a doctor sued Westword, the Denver alternative weekly, after he had pleaded guilty to counts of filling false prescriptions for painkillers and other drugs. The doctor claimed that an article harmed his reputation and, although the lawsuit eventually was dismissed, "Denver Westword paid a small fortune having to defend that suit," Zansberg said. "Those costs would not have been borne by Westword … had this bill been in place."
Two Broomfield residents who sued their city and county for alleged violations of the Colorado Open Meetings Law and the Colorado Open Records Act told lawmakers that they, in turn, were sued for more than $100 million by "the oil and gas industry" after the city brought the industry into the case.
"We thought we were protected by the First Amendment of the Constitution, which is supposed to guarantee the right to access the courts," said Suzanne Kent. But a district court judge ruled that the industry's SLAPP suit could proceed, and "we could not appeal to an appellate court at that point because it was too early in the lawsuit." Even if they won their original lawsuit, she testified, they might still have been liable for the industry's claim of losses and a "mountain" of legal expenses.
"It was a path we absolutely could not go down," Kent said. "… We tried to stand up for good government. We tried to exercise our rights, and our city and the industry took all those decisions away from us."
HB 19-1324 now heads to the House floor.
Follow the Colorado Freedom of Information Coalition on Twitter @CoFOIC. Like CFOIC's Facebook page. Visit CFOIC's legislature page to track bills in the General Assembly that could affect the flow or availability of information in Colorado.