By Jeffrey A. Roberts
CFOIC Executive Director
A judge has ordered a Texas-based oil and gas company to pay attorney fees to a Paonia environmental activist whom it sued for libel after he posted a critical comment on the website of the Glenwood Springs Post Independent.
In June, Delta County District Court Judge Steven Schultz dismissed a defamation lawsuit brought by SG Interests I, Ltd. against Pete Kolbenschlag, finding that his online comment was "substantially true." In Tuesday's ruling on attorney fees, the judge called the company's lawsuit "baseless" and "frivolous" and he concluded that SG Interests pursued the legal action "even after its lack of merit became apparent."
"Commencing and maintaining a lawsuit as a form of retaliation or to silence a critic is a clear example of vexatious litigation," Schultz wrote.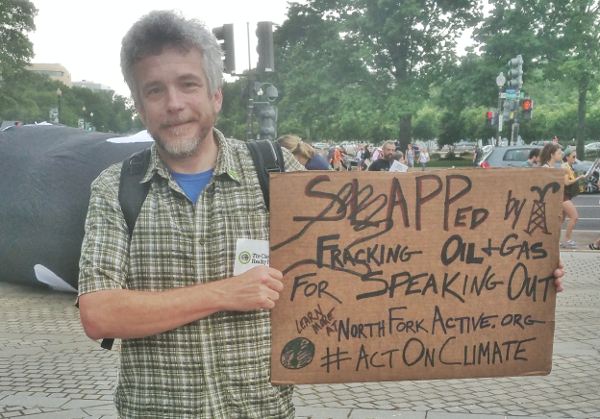 The type of lawsuit filed against Kolbenschlag is often called a SLAPP, short for strategic lawsuit against public participation. Used by some to attack First Amendment rights, they have become "an all-too-common tool for intimidating and silencing critics of business, often for environmental and local land development issues," according to the Reporters Committee for Freedom of the Press.
Several states, but not Colorado, have enacted anti-SLAPP statutes designed to let a defendant seek dismissal at an early stage of the proceeding and possibly recover legal fees.
SG Interests sued Kolbenschlag for writing, in the comments section of a Nov. 28, 2016, Post Independent article that the company had been "fined for colluding (with Gunnison Energy Corporation) to rig bid prices and rip off American taxpayers."
The company, which has operations in Colorado, claimed that Kolbenschlag's statement was "false" and "defamatory" because SG Interests hadn't been "fined" but instead had paid to settle U.S. Justice Department allegations about its bidding practices without admitting wrongdoing. The company "made the prudent economical business decision to pay a settlement to avoid the costs of protracted litigation," its suit against Kolbenschlag states.
Schultz, however, wasn't convinced the settlement was "part of an ordinary business decision" by SG Interests. "It simply does not comport with the legal outcome of the case," he wrote. The judge found that "the gist or sting" of Kolbenschlag's online comment was accurate and that the facts from the federal litigation "were far more damaging" to SG Interests.
The judge also wrote he was "particularly troubled" by SG Interests' explanation for why it sued Kolbenschlag for libel but took no legal action against news organizations and others who also described the settlement as the payment of fines. The company claimed that Kolbenschlag should be held to a higher standard based on his knowledge of the oil and gas industry, but Schultz concluded that the only difference was that Kolbenschlag is a frequent industry critic who had lobbied against SG Interests' operations.
Because SG Interests has appealed Schultz's dismissal of the lawsuit, a final decision on the amount of attorney fees due Kolbenschlag may be delayed. In a statement emailed to the Colorado Freedom of Information Coalition, Kolbenschlag wrote that the case likely will continue well into 2019.
"I appreciate that the judge recognized the untoward motivations that appear to lie behind this complaint," wrote Kolbenschlag, who is represented by attorney Steve Zansberg, CFOIC's president.
"Such (a) long, stressful, and expensive process is just more evidence that these undemocratic and underhanded tactics are pernicious at their root. Not to mention a colossal waste of private and public resources," he added. "Those that pursue and enable such tactics ought to be ashamed, and, by my reckoning, sanctioned."
Follow the Colorado Freedom of Information Coalition on Twitter @CoFOIC. Like CFOIC's Facebook page. Do you appreciate the information and resources provided by CFOIC? Please consider making a tax-deductible donation.