By Jeffrey A. Roberts
CFOIC Executive Director
Wheat Ridge has joined a liquor retailer's legal effort to stop the owner of another liquor store from sharing information the city provided to him in response to a public records request.
As we wrote earlier this month, Applejack Wine & Spirits wants a court injunction declaring that Bruce Dierking, co-owner of Hazel's Beverage World in Boulder, is not entitled to Applejack liquor license records he obtained last March using the Colorado Open Records Act (CORA).
Applejack claims the documents were "filled with highly sensitive personal and confidential information," which an inexperienced Wheat Ridge clerk disclosed by mistake. Dierking disputes that the clerk was inexperienced and that the documents were full of non-disclosable information. His counterclaim accuses Applejack of preventing him from exercising both his legal right to obtain public records and his free speech right to talk about the documents.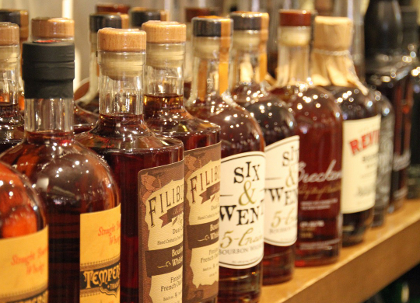 The city of Wheat Ridge intervened in Applejack's lawsuit last week, contending that it "mistakenly provided" Dierking with financial and ownership information about Applejack that is protected from public disclosure under a CORA exemption for trade secrets and confidential commercial data. The city wants Dierking "permanently precluded" from sharing that information.
"The City's inadvertent disclosure of Applejack's confidential business and ownership records should not in any way undermine Applejack's claims of confidentiality," Wheat Ridge contends in its motion to intervene, which a judge granted last Thursday.
Allowing Dierking to share Applejack's information, the motion adds, would impair the city's ability to obtain required financial and ownership information from future liquor license applicants.
But Dierking's lawyer, in a new court filing, argues that Applejack cannot "un-ring the information bell" by barring Dierking from using records he obtained lawfully, with Wheat Ridge's consent, under CORA.
Dierking's response to Applejack's injunction motion cites a 1989 U.S. Supreme Court decision holding that a Florida newspaper could not be sanctioned for printing truthful information lawfully obtained from government records.
It also cites two articles from The Colorado Statesman (now Colorado Politics), which reference some of the ownership records from Applejack's liquor license file. When Applejack submitted the articles to the court as evidence of injury suffered by the retailer, Dierking's lawyer argues, it "waived any claim that the information set forth therein could be protected under CORA."
"These materials are public now," Dierking's response says.
A hearing on Applejack's motion for a preliminary injunction is scheduled for Thursday afternoon before Jefferson County District Court Judge Lily Wallman Oeffler.
Follow the Colorado Freedom of Information Coalition on Twitter @CoFOIC. Like CFOIC's Facebook page. Do you appreciate the information and resources provided by CFOIC? Please consider making a tax-deductible donation.