By Jeffrey A. Roberts
CFOIC Executive Director
U.S. Sen. Michael Bennet discussed his proposed Future of Local News Commission Act during a Zoom call with Colorado journalists Thursday, saying he shudders to think about what the diminishment of local journalism is doing to American democracy.
"I really believe that the collapse of conventional journalism has contributed to a world where facts are not as important in informing political decision-making, either for the public or for politicians," Bennet said. "And that's conspired with other things to create an enormous test of our democratic institutions. I don't think we can accept that as a permanent state of things."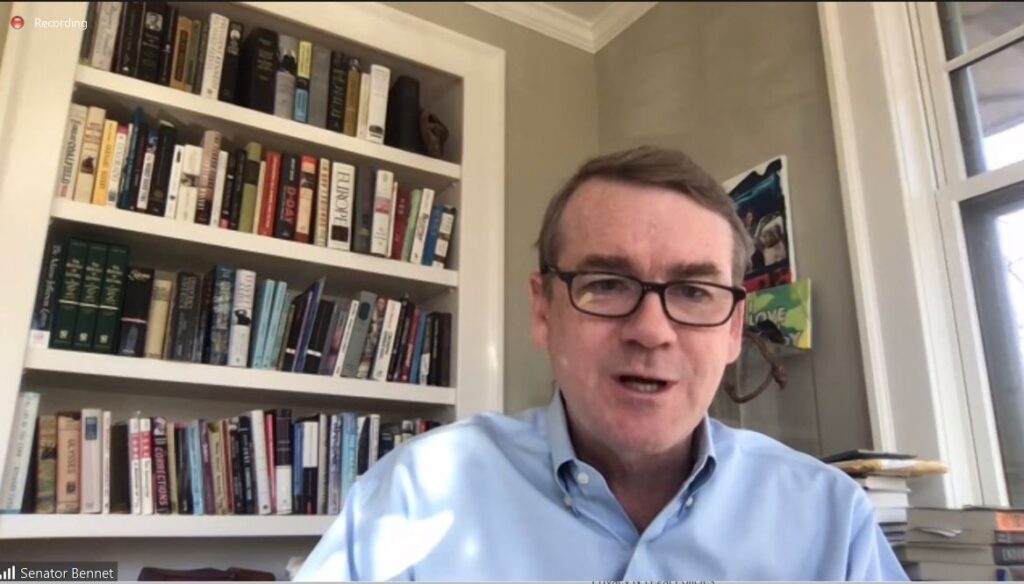 Introduced in September, the legislation would create a 13-member federal commission to examine the state of local news in the United States and propose policies and mechanisms for supporting the production of "professional, independent and high-quality local news to meet the needs of the public." That might include a national endowment for local journalism or an expansion of the Corporation for Public Broadcasting, a nonprofit created by Congress in 1967 to help fund public radio and television stations.
If the commission looks at public funding for journalism, the bill makes clear it must consider "issues of transparency and other guardrails, such as editorial independence from government actors and a distinct, independent legal and financial structure for the funding institution."
Ensuring that local news organizations maintain their freedom and independence is critical to any proposal, Bennet said during Thursday's meeting, which was arranged by the Colorado Media Project.
"The last thing any of us should want — certainly what you guys wouldn't want and I wouldn't want — is for the press to become beholden to government for support," the Colorado Democrat said. "That's a real challenge we're going to have to think through, but it's not an excuse to throw up our hands and say there's nothing we can do."
Bennet said the idea for the bill, introduced with Democratic Sens. Amy Klobuchar of Minnesota and Brian Schatz of Hawaii, came from the 2019 PEN America report, "Losing the News," which called for "a radical rethinking of local journalism as a public good."
The Colorado Media Project also issued a report in 2019 that urged Coloradans to "seriously consider public support as one of the necessary vehicles to sustain and evolve local public-service journalism."
If his bill passes, Bennet said he hopes the local news commission also examines the role of social media platforms, which he believes have become "too large and too powerful" and are "far too cavalier about their responsibilities."
"Now that we're on the back end of the 2020 elections, I've never been more persuaded that if this democracy is going to survive, we need an answer of some kind for the existing social media," Bennet said. "I see no reason why social media couldn't have been a constructive force for our democracy. I see no reason why it couldn't have been a democratizing force for America or for democracies around the world.
"But I think it's fair to say that, instead, much of it has been a destructive force. I see no reason why it couldn't have been a powerful tool to inform people and engage people and organize them in a way that strengthens our democracy. But we are a long, long way from that."
Follow the Colorado Freedom of Information Coalition on Twitter @CoFOIC. Like CFOIC's Facebook page. Do you appreciate the information and resources provided by CFOIC? Please consider making a tax-deductible donation.