By Jeffrey A. Roberts
CFOIC Executive Director
Lawyers clashed in the Colorado Court of Appeals on Tuesday over whether the state's Children's Code prohibits the Colorado Department of Human Services (DHS) from publicly releasing aggregate statistics about child-abuse hotline calls made from licensed residential care facilities.
Representing 9NEWS and The Colorado Sun, attorney Steve Zansberg challenged the agency to explain how disclosing three years of numbers for three group facilities could possibly identify any particular child, family member or other individual.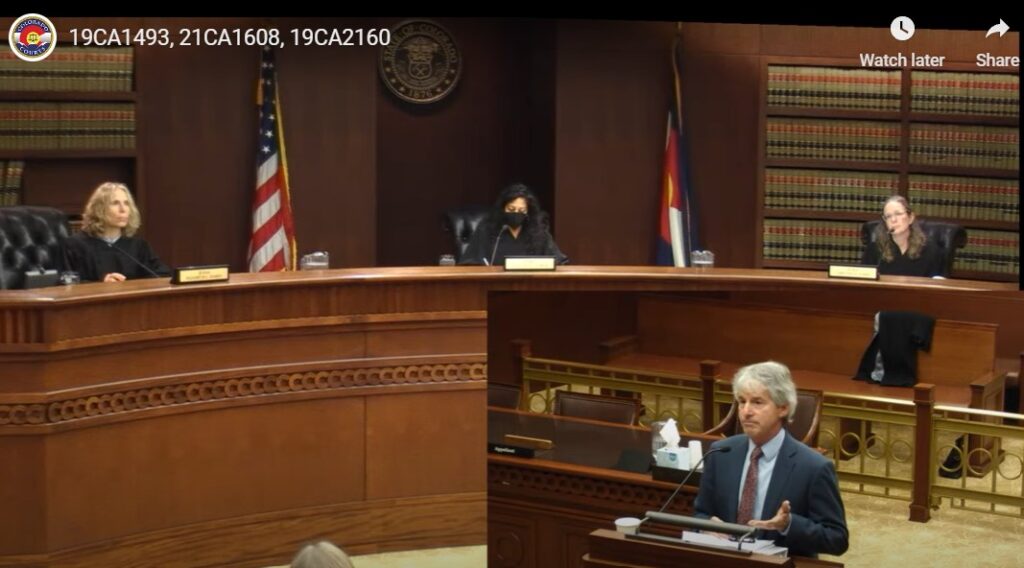 He cited an August ruling by the 10th U.S. Circuit Court of Appeals, which stated that § 19-1-307(1)(a) "prohibits and penalizes only the disclosure of identifying information from child abuse reports." Although the street addresses of the facilities are publicly known, that information by itself isn't sufficient to figure out someone's identity, Zansberg told a three-judge appellate panel.
"We strongly disagree with the department's position that, in all instances, an address is identifying information," said Zansberg, who is president of the Colorado Freedom of Information Coalition.
The Court of Appeals is weighing whether DHS properly denied Colorado Open Records Act requests made in 2021 by Sun and 9NEWS reporters for documents showing the number of Colorado Child Abuse and Neglect Hotline calls placed over the previous three years from the Mount St. Vincent, Cleo Wallace and Tennyson Center facilities.
In September 2021, a Denver District Court judge dismissed a lawsuit brought by the two news organizations against the agency, finding that releasing the statistics could violate the statute's confidentiality provision.
The law, part of the Colorado Children's Code, says that "reports of child abuse or neglect and the name and address of any child, family, or informant or any other identifying information contained in such reports shall be confidential and shall not be public information."
Zansberg said the word "address" in the provision "is one example of information that is modified by the final phrase — 'other identifying information.' And so, if an address isn't identifying information in a particular context … then it's not identifying information."
But Assistant Attorney General Ann Pogue, representing DHS, disputed Zansberg's interpretation, arguing that "addresses are always identifying" and can be "used in conjunction with other pieces of information to identify an individual."
"A requester could conceivably make several requests over a span of time to pin down the identity of an individual … and that would render the protections of 19-1-307 meaningless," Pogue said. "While the public might know where these facilities are," she added, "what they don't know is whether there are children that reside there that are the subject of these abuse and neglect records. And that is what the statute is designed to protect."
During the oral arguments, one of the Court of Appeals judges noted that the Sun and 9NEWS records requests "concern kids who are vulnerable and have already been determined to have been abused and neglected or at the mercy of grownups in a facility where the problems could potentially be kept under wraps."
"The issue here is whether or not the disclosure would serve the public interest," the judge said. "Why does DHS want to keep this information hidden in the first place?"
"That is not the intent," Pogue said. "Transparency is important. However, protecting children is one of the most important governmental interests … Ultimately, the General Assembly has determined that protecting this confidentiality is more important than a broad public disclosure at the hands of a news organization."
Follow the Colorado Freedom of Information Coalition on Twitter @CoFOIC. Like CFOIC's Facebook page. Do you appreciate the information and resources provided by CFOIC? Please consider making a tax-deductible donation.