By Jeffrey A. Roberts
CFOIC Executive Director
Another court hearing, another ruling in favor of a news media coalition under Colorado's new law governing the public release of police body-worn camera footage.
Arapahoe County District Court Judge Elizabeth Weishaupl on Monday ordered the disclosure of redacted video from a Sept. 3 incident in which Sheridan police officer Shawn Ralph allegedly choked a woman accused of shoplifting at a 7-Eleven. Ralph has been charged with second-degree assault.
The officer's attorney "provided no evidence of any kind at hearing to support his allegations that the release of the body worn camera footage would have any effect on (Ralph's) rights, let alone prevent him from empaneling an impartial jury," the judge wrote. Weishaupl instructed the police department to blur the alleged victim's face from an interview portion of the video before releasing the footage to journalists.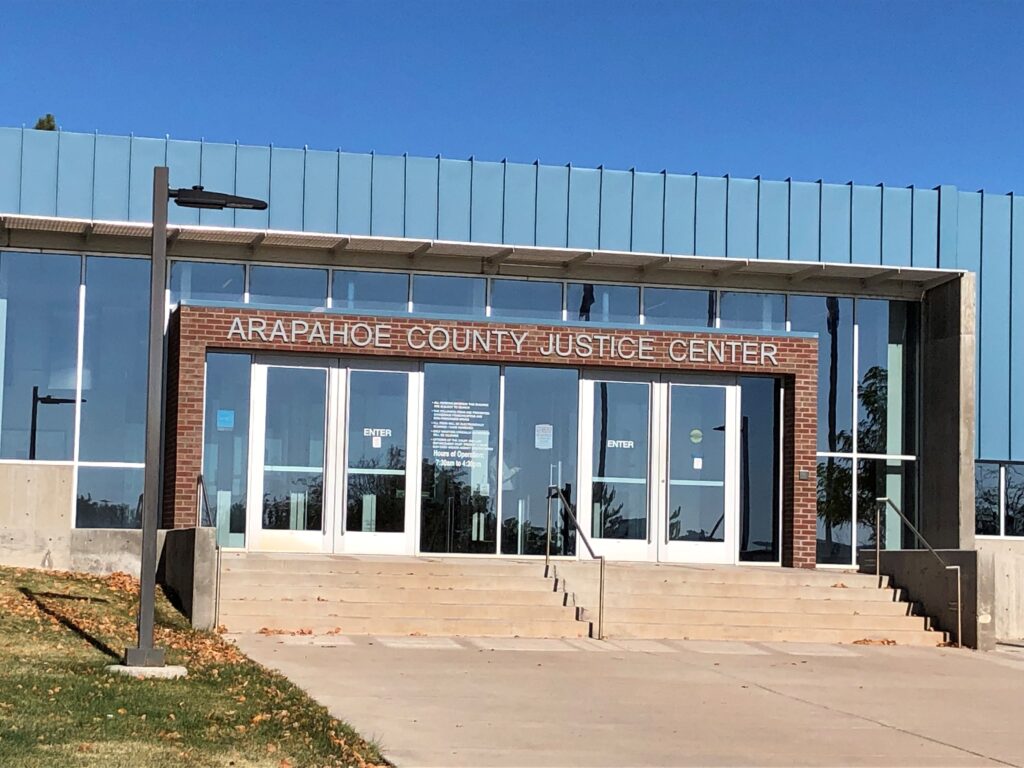 The ruling was the second this month in which a police officer failed to show in court that the disclosure of body-cam footage would jeopardize his Sixth Amendment right to a fair trial. On Oct. 7, a Weld County District Court judge ordered the immediate release of video from a June incident in which Greeley police officer Kenneth Amick allegedly used a chokehold during an arrest.
Rachael Johnson, a Colorado-based lawyer for the Reporter's Committee for Freedom of the Press, argued in both cases on behalf of news and journalism organizations that "Coloradans have a significant interest in the disclosure of information about police officers who use excessive force, especially when an officer places a citizen in a chokehold or neck restraints." Ralph, she wrote in a court brief, "only made speculative claims" that releasing the footage would prejudice potential jurors. "This is not enough to overcome the presumption of release."
Colorado's new body-cam and dashboard-cam footage law, enacted by House Bill 21-1250 and Senate Bill 20-217, requires the public disclosure of unedited video and audio recordings of incidents "in which there is a complaint of peace officer misconduct" within 21 days after a request is made. If the video "would substantially interfere with or jeopardize an active or ongoing investigation," the release of footage can be delayed until 45 days from the date of the allegation of misconduct. A prosecuting attorney must explain in writing why the delayed release is justified, and that statement must be released to the public when the video is released.
The new law also lets a defendant such as Amick or Ralph file a constitutional objection to the release of a body-cam or dash-cam recording.
Ralph's attorney, Zachary Wagner, contended during a hearing last week that disclosing footage of the Sheridan 7-Eleven incident "could potentially poison the jury pool. You could have media commenting on that body-camera footage and not just engaging in fact-based reporting," he told Weishaupl. "You have social media out there as well, with people commenting and inflaming potential jurors' passions."
Wagner cited the "massive shift in public opinion toward police officers and what they do and how they do their jobs" since the killing of George Floyd by a Minneapolis police officer in 2020.
But Weishaupl's order points to several court rulings that have set a "stringent standard" for deciding whether pretrial publicity has tainted a potential jury pool. "As the Defendant presented no evidence, the Court has no basis to find any presumption of prejudice that has occurred as result of the pretrial publicity," she wrote, noting several news stories based on comments from Sheridan's police chief and the release of the arrest affidavit in the case.
The judge also noted that the 18th Judicial District "encountered massive and extreme pretrial publicity" in dealing with the Aurora Theater shooting case in 2015 but still found an impartial jury. "The Court presumes that it could do the same in the (Ralph) case," she wrote.
The district attorney's office did not object to the release of the body-cam footage.
The coalition represented by Johnson in the Ralph case includes FOX31, 9NEWS, Denver7, CBS4, the Associated Press, the Colorado Broadcasters Association and the Colorado Freedom of Information Coalition.
Follow the Colorado Freedom of Information Coalition on Twitter @CoFOIC. Like CFOIC's Facebook page. Do you appreciate the information and resources provided by CFOIC? Please consider making a tax-deductible donation.