By Jeffrey A. Roberts
CFOIC Executive Director
A CORA modernization bill passed a Colorado Senate committee Thursday with lawmakers adding a provision that prohibits state agencies and local governments from requiring requesters to show identification to obtain public records.
The new language only affects records requested under the Colorado Open Records Act, not those requested of police departments and sheriff's offices under the Colorado Criminal Justice Records Act (CCJRA).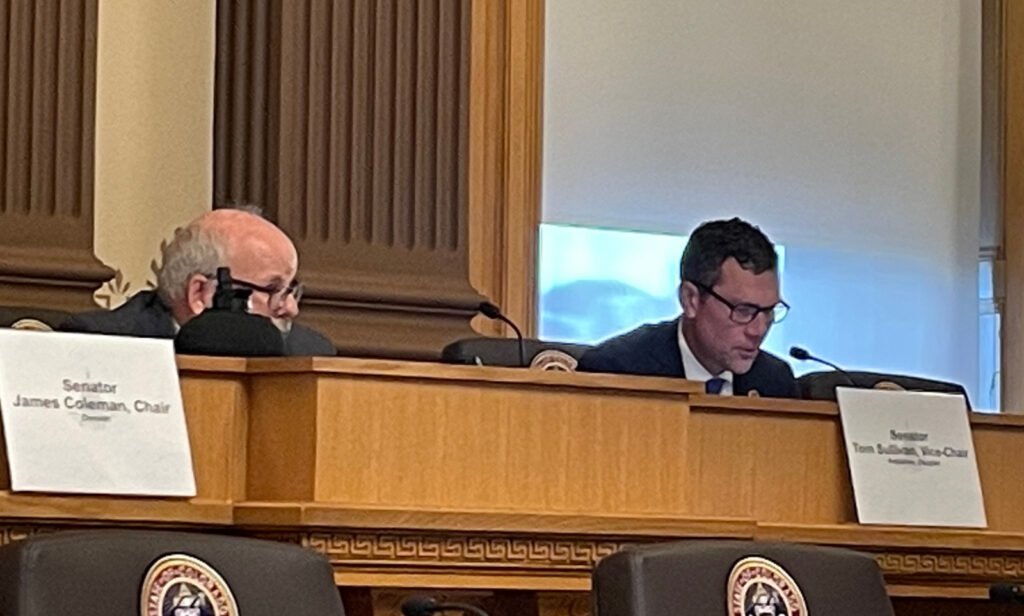 Other provisions in Senate Bill 23-286 address "certain parts of CORA that do not match 2023 but unfortunately still look like perhaps the 1990s," said Sen. Chris Hansen, the Denver Democrat who introduced the bill.
The measure requires records custodians to accept credit cards or electronic payments for records if they already take them for other products and services. It prohibits the charging of per-page fees for records provided in digital formats such as PDFs. It also changes the definition of "electronic mail" in CORA to "electronic communications" to encompass all forms of electronic communications, and it requires state agencies to keep electronic communications for at least the length of a proceeding (such as an investigation or a hearing) unless their records management programs require a longer retention period.
Michael McReynolds, legislative liaison for the state Office of Information Technology, expressed concerns about the electronic communications provisions, which "make it hard for us really to understand just how the state would or could potentially implement this bill to be in compliance." McReynolds also testified he was authorized by the governor's office "to say they are a little bit frustrated that (the records retention provision) only applies to the executive branch and not the legislative branch."
Hansen noted that Colorado case law has "made it clear that electronic mail also includes other types of electronic communication, and it's fitting to update the statute."
SB 23-286 does not tackle the often-high cost of obtaining public records, as the Colorado Freedom of Information Coalition hoped it would. If the legislature doesn't act, the maximum hourly rate state agencies and local governments can charge to fill records requests — after a free first hour — will rise with inflation in 2024 from $33.58 to possibly $40 or more.
Jeremy Jojola, an investigative reporter for 9NEWS, was one of several journalists who testified in favor of the bill. He told lawmakers about a government entity that recently required him to drive from Denver to the Greeley area to pay with a paper check for digital records. "These are hurdles that sometimes agencies will put before us to discourage us from getting records," he said.
Jojola also recalled the time an agency wanted a copy of his driver's license to obtain public records "and my driver's license information was given to an outside third party by mistake, which was very unsettling for me."
Many law enforcement agencies in Colorado require records requesters to show an ID, even though CCJRA allows "any person" to inspect records that are deemed to be public. CORA also allows "any person" to inspect public records.
In 2018, Elbert County adopted a policy requiring requesters of CORA records to "present a valid form of identification when collecting the contents of any request." The latest version of the policy says, "All Elbert County open records requests through the Colorado Open Records Act (CORA) must be accompanied by a copy of a valid Colorado Identification." It cites a 2018 district court ruling that deemed Elbert County's ID policy "reasonable."
Another provision of SB 23-286 would ensure the public disclosure of the final report of any government-authorized investigation into alleged sexual harassment by an elected official. This element of the bill may still be amended to further protect the identifying information of victims and witnesses.
SB 23-286, which passed the Senate State, Veterans and Military Affairs Committee on a 5-0 vote, now goes to the Senate Appropriations Committee.
The fiscal note on the bill says it would cost state agencies at least $1.8 million in FY 2023-24 "to process CORA requests, including to gather additional types of electronic communications, including text messages, electronic chats, and other types of instant/electronic messaging. Agencies may also be required to upgrade their existing information technology software and systems to accommodate additional storage and allow for electronic payment processing."
Follow the Colorado Freedom of Information Coalition on Twitter @CoFOIC. Like CFOIC's Facebook page. Visit CFOIC's legislature page to track bills in the General Assembly that could affect the flow or availability of information in Colorado.