The Society of Professional Journalists' Colorado chapter honored Jeff Roberts, executive director of the Colorado Freedom of Information Coalition, with its 2015 First Amendment award Thursday evening.
Roberts also won a first-place award for blogging in SPJ's four-state "Top of the Rockies" contest, which honors journalists in Colorado, New Mexico, Utah and Wyoming.
"This was a first rate series of stories about the status of Colorado's openness laws," the judges wrote. "There is a county that won't automatically show the real estate assessment of officials. These pieces were a public service."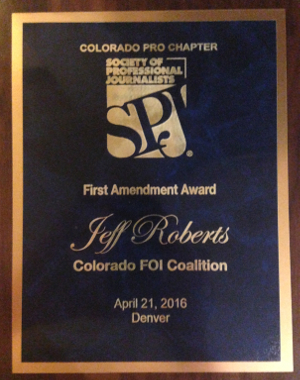 Media lawyer Tom Kelley, a CFOIC board member who served for 17 years as the coalition's president, presented the First Amendment award to Roberts at a Denver Press Club event.
The winning blog articles included a June 2015 story which revealed that elected officials in Elbert County were hiding their real estate property assessments from the public.
A second story detailed a former school board president's five-month battle to obtain salary records from her school district. The third article showed how some cities continue to use secret ballots to fill council vacancies despite a 2012 Sunshine Law amendment banning that practice.
Also honored by SPJ: Laura Frank, president of news for Rocky Mountain PBS, who received the "Keeper of the Flame" award; Denver Post reporter Jordan Steffen, who was named "Journalist of the Year"; and Richard Joyce of Colorado State University-Pueblo and Kris Kodrich of CSU-Fort Collins, who each were named "Journalism Educator of the Year."
A complete list of "Top of the Rockies" winners is on SPJ Colorado's website.
Follow the Colorado Freedom of Information Coalition on Twitter @CoFOIC. Like CFOIC's Facebook page. Do you appreciate the information and resources provided by CFOIC? Please consider making a tax-deductible donation.