By Jeffrey A. Roberts
CFOIC Executive Director
Look up any major court ruling involving the Colorado news media from the past 47 years and chances are Tom Kelley's name is on it.
Actual malice. Autopsy reports. The Columbine killers' "basement tapes." Stapleton Development Corp. records. The governor's cellphone bills. The meetings and records of a county retirement board.
Kelley waged court battles over these issues and many more as an attorney for The Denver Post, other news organizations and the Colorado Press Association, steadfastly and expertly defending the public's right to know and the journalist's right to report. His victories far outnumbered his losses.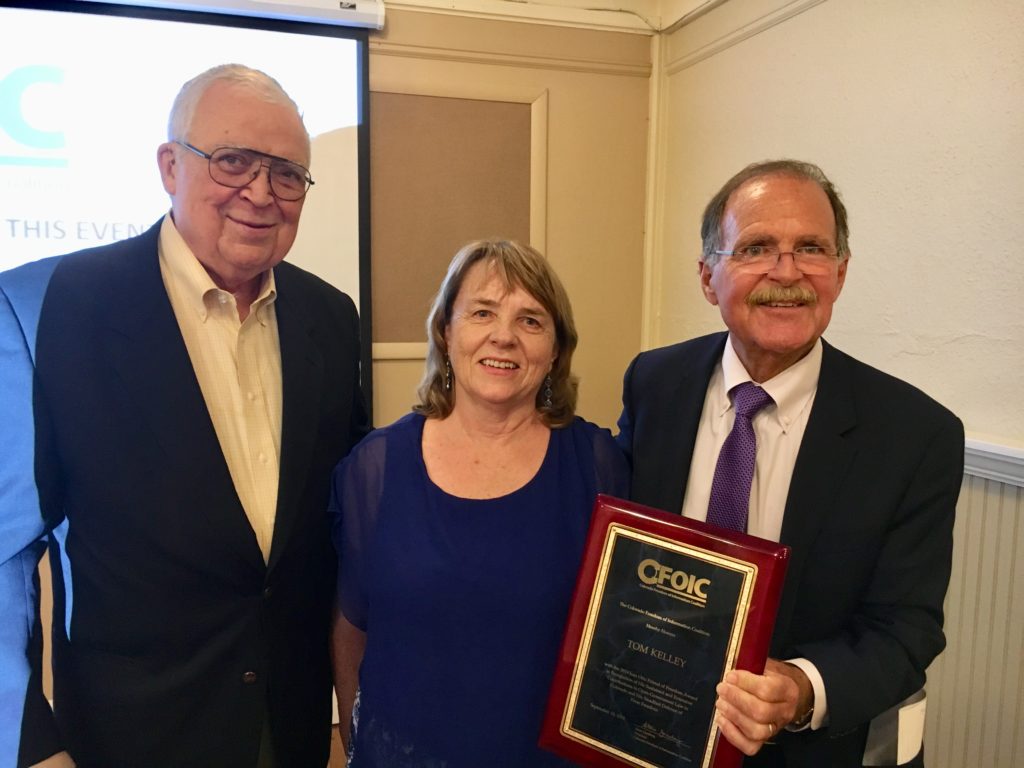 "Over my half century of doing this work, we won and lost cases, we won and lost battles. But the true lesson of our efforts over time is that the war is never won," Kelley said Tuesday evening, accepting the Colorado Freedom of Information Coalition's Jean Otto Friend of Freedom Award. "There will always be bureaucrats … who believe the world is a better place if they're the only ones that know the whole truth. That war is never likely to end."
Kelley, who served as CFOIC's board president from 1997 through 2013, was honored by the organization along with three other open-government champions. Rep. James Coleman, D-Denver, and Sen. Mike Foote, D-Lafayette, received the Sue O'Brien Award for Public Service for sponsoring the new state law that opens records on police internal affairs investigations. Kristin Bjornsen received the Ruth Anna Citizen Champion Award for winning a pro se open records and open meetings case against Boulder County in the Colorado Court of Appeals.
Kelley, who retired from the Ballard Spahr law firm and is now of counsel at Killmer, Lane & Newman, was introduced by U.S. District Court Judge John Kane and former Denver Post Managing Editor Jeanette Chavez.
"His contributions to Colorado's freedom of information climate are unparalleled, and his contributions to First Amendment law nationally fill pages," Chavez said. She noted Kelley's work representing news media interests during major stories such as the Oklahoma City bombing trials, the JonBenét Ramsey murder investigation, the sexual assault case against NBA superstar Kobe Bryant and in the aftermath of Columbine.
Kelley earned a law degree from the University of Denver in 1972 and gained national recognition early in his career, winning an important appeal on behalf of Penthouse magazine, which had been sued for defamation by a former Miss Wyoming. His representation of certain clients was "often at odds with popular sentiment, even though that defense was based on a core of our democracy," Chavez said. A prominent example: Kelley defended the publisher of a manual on how to be a professional hit man.
In one of the most consequential cases he litigated, Kelley persuaded the Colorado Supreme Court to adopt the "actual malice" libel standard for private-figure plaintiffs in court actions involving matters of public concern, making Colorado one of only five states to do so. The ruling has saved Colorado news organizations "millions of dollars," Chavez said. Kelley and former law partner Steve Zansberg, CFOIC's current president, also persuaded the Colorado Supreme Court that the recordings of the Columbine killers were criminal justice records subject to the disclosure provisions in the Colorado Criminal Justice Records Act.
As originally passed by voters in 1972, the Colorado Open Meetings Law only applied to the legislature and state agencies. Kelley wrote the statutory provisions that extended the COML to local governments, and he helped get those provisions enacted in 1991.
Kelley is "a lawyer's lawyer," said Kane, who represented the Colorado Springs Sun before President Carter appointed him to the federal bench. "What does that mean? We don't use that phrase much anymore. But it means someone who, first of all, you can trust; secondly, who is highly competent; and third, is available to improve the law at all times and to help other lawyers, who sets a standard of excellence."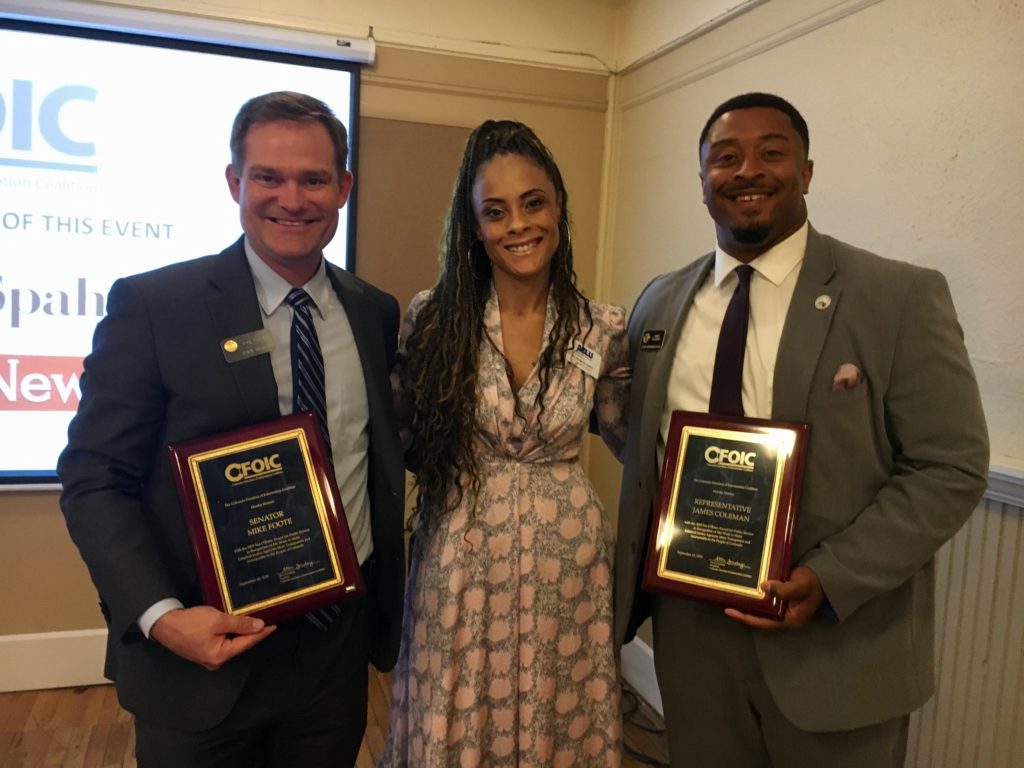 Accepting their Sue O'Brien awards, Coleman and Foote spoke about the importance of House Bill 19-1119, the new law enforcement records statute. Coleman said the case of Darsean Kelley motivated him to introduce the first version of the bill in 2018. Kelley was paid $110,000 by the city of Aurora to settle his claims against an officer who tased him in the back, even though he had complied with the officer's orders to turn around and raise his hands. An internal investigation concluded that the officer's actions were "reasonable appropriate and within policy," but the city refused to release the files.
"I jumped into the effort because I was tired of finding out about law enforcement officers who had done bad acts that nobody knew about, sometimes until it was too late," Foote said. "… On the other side of the same coin, I was also tired of law enforcement officers that had not committed bad acts or misdeeds being lumped in with those who had. This bill represented a way to make sure that everyone knew – which ones were (bad actors) and which ones weren't."
Accepting the Ruth Anna award, Bjornsen talked about representing herself, without a lawyer, in her open-government lawsuit against Boulder County. She lost her case in district court, but the Colorado Court of Appeals overturned key aspects of the ruling, deciding that county commissioners violated the law with their practice of convening "emergency" executive sessions and then notifying the public retroactively. The appellate court also determined that Bjornsen was entitled to inspect draft emails that the county had improperly withheld under the work product exclusion in the Colorado Open Records Act.
"My hope is that in some small way this will contribute to the ongoing contest between transparency and opaqueness," Bjornsen said, "and I encourage all citizens to pick up their own figurative bottles of Windex and turn a critical eye on their government at all levels."
The Jean Otto Friend of Freedom Award honors the legacy of Jean Otto, a long-time Rocky Mountain News editor who founded CFOIC in 1987. The Sue O'Brien Award for Public Service is named for the late Sue O'Brien, press secretary to Gov. Dick Lamm, campaign manager for Gov. Roy Romer, editorial page editor of The Denver Post and a tenured professor at the University of Colorado. The Ruth Anna Citizen Champion Award is named for its first recipient, Ruth Anna, who served on CFOIC's board for nearly 30 years.
Follow the Colorado Freedom of Information Coalition on Twitter @CoFOIC. Like CFOIC's Facebook page. Do you appreciate the information and resources provided by CFOIC? Please consider making a tax-deductible donation.