The Colorado Freedom of Information Coalition presented its highest honor, the Jean Otto Friend of Freedom Award, to the founders of the Colorado News Collaborative, an innovative local media resource hub that is helping to strengthen local journalism statewide.
The award, presented during an online ceremony Mar. 18, honors the legacy of Jean Otto, a long-time editor and reader representative at the Rocky Mountain News who founded CFOIC in 1987 and was a tireless advocate for First Amendment and freedom-of-information rights. Previous winners include media attorney and past CFOIC President Tom Kelley, former Denver Post Editor Greg Moore and Joyce Meskis, former owner of the Tattered Cover bookstores.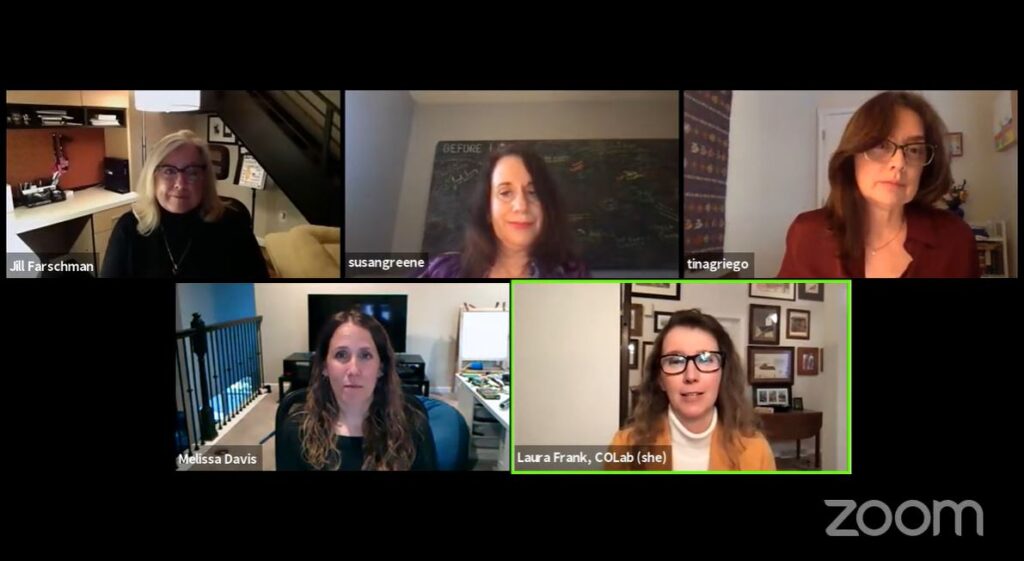 The latest recipients are Melissa Davis, Jill Farschman, Laura Frank, Susan Greene and Tina Griego, all of whom played key roles in the establishment of the Colorado News Collaborative, also known as COLab.
Davis is director of the Colorado Media Project and vice president for strategic communications and informed communities at the Gates Family Foundation. Farschman was CEO of the Colorado Press Association until fall 2020. Laura Frank is COLab's executive director, a former Rocky Mountain News reporter and the founder of I-News, a nonprofit investigative news organization that merged with Rocky Mountain Public Media in 2013. Greene, a COLab journalist, was editor of The Colorado Independent and a Denver Post reporter and columnist. Griego, a COLab journalist, was managing editor of The Colorado Independent and a Denver Post and Rocky Mountain News columnist.
"These five women really formed the core in envisioning and founding and creating COLab, an innovative — and in my view — radical new entity that literally breaks down the walls between now over 100 news organizations throughout the state," said CFOIC President Steve Zansberg. "Its mission and its ethos is collaboration … It embodies for me the word synergy, where the whole is greater than the sum of the parts."
COLab brings Colorado news organizations together on projects and offers reporting, editing and coaching expertise to small, resource-strapped news outlets, enhancing their ability to produce high-quality journalism.
The latest example is "Three Bullets to the Back," an investigative story with the Kiowa County Independent that examined the fatal shooting death of an unarmed man by sheriff's deputies during a traffic stop in April 2020. Several news organizations have published the story, including The Denver Post, The Colorado Sun and 9NEWS. Some previous collaborations looked at Coloradans' mental health during the COVID-19 pandemic and a police shooting in Rangely.
"We do better journalism through collaboration and training and coaching," Frank said, accepting her award. "We focus on building more trust with the public through engagement with all communities, especially those that have been overlooked or not well served in the past … We focus on innovating business models and creating new ways to tell stories and new ways to reach people who might not be reached right now."
Said Farschman: "Our unwavering commitment to making a meaningful difference for civic journalism really underpins all of our difficult discussions about our collective future. We began to see really what we were doing as a movement. It became more about saving our free press, and by extension, democracy itself."
CoLab is also a physical space on the third floor of the new Buell Public Media Center in downtown Denver, but most of the news organizations to be headquartered there haven't yet moved in because of the pandemic. CFOIC will be located there as well.
Follow the Colorado Freedom of Information Coalition on Twitter @CoFOIC. Like CFOIC's Facebook page. Do you appreciate the information and resources provided by CFOIC? Please consider making a tax-deductible donation.