By Jeffrey A. Roberts
CFOIC Executive Director
A lawsuit filed Friday by 9NEWS and reporter Steve Staeger accuses Denver city officials of improperly denying Colorado Open Records Act requests for text messages about a severe hailstorm that pummeled Red Rocks Amphitheater concertgoers on June 21.
Staeger asked for messages "regarding city business" sent or received the day of the storm and the following day by Ginger White Brunetti, deputy director of Denver Arts & Venues, and Tad Bowman, director of Red Rocks.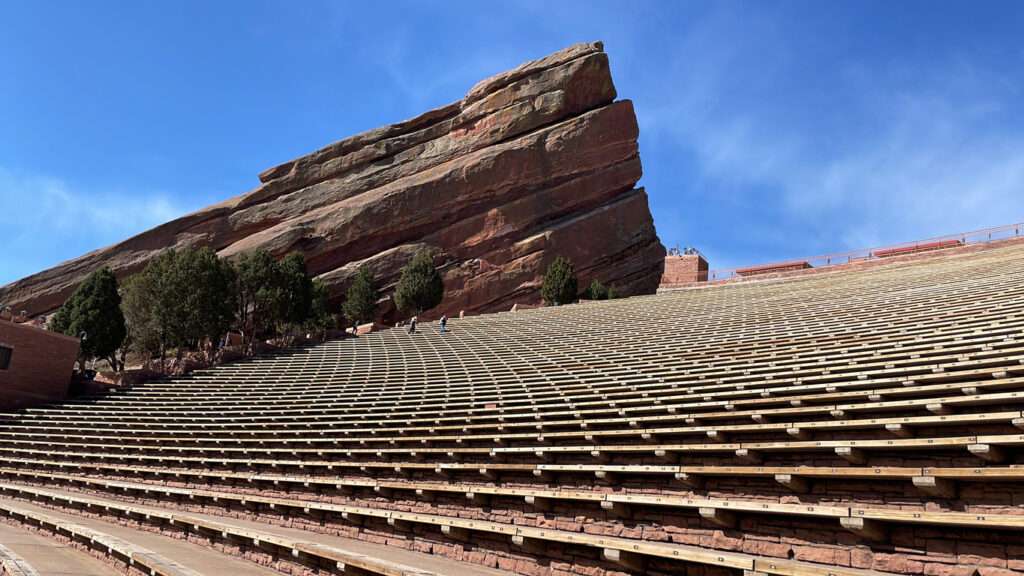 The city denied the requests, claiming that "text messages are not records made, maintained, or kept by the City and are not subject to disclosure" under CORA. "Therefore, nothing will be produced in response to your request."
But the Denver District Court lawsuit, prepared by media and First Amendment lawyer Steve Zansberg, notes that CORA defines a "public record" to mean any "writings" — including digitally stored data — that are "made, maintained or kept" by any political subdivision of the state "for use in the exercise of functions required or authorized by law or administrative rule."
"The actual location of a writing — in a 'personal filing cabinet' at the home of a public employee, in a hand-written diary or journal kept in a locked nightstand drawer at home, or a 'private' repository of electronic communications — is irrelevant to the question whether the document in question is a public record," the lawsuit argues.
In a July 28 email to Zansberg, Senior Assistant City Attorney Michele Horn wrote that the city "does not have access to, nor does it maintain or keep, employee texts made from personal cell phones regardless of the subject matter of those texts. Accordingly, as the records are not maintained or kept by Denver, they are not documents subject to CORA."
The lawsuit cites a 2003 Colorado Supreme Court ruling that a county manager's private diary was not subject to CORA because the official had not kept the diary while acting in his official capacity. If the county manager had kept the document "in his official capacity as County Manager, then the document is clearly a public record," the ruling says.
Zansberg, who is president of the Colorado Freedom of Information Coalition, also pointed to court decisions in several other states holding that "so long as the content of an e-mail, text message, or other electronic communication sent or received by a government employee relates to the conduct of governmental business, it is subject to those states' open records acts; the actual physical location of such a writing is immaterial."
In 2017, the California Supreme Court held that "when a city employee uses a personal account to communicate about the conduct of public business, the writings may be subject to disclosure under the California Public Records Act." Similarly, the Washington Supreme Court in 2015 held that "records an agency employee prepares, owns, uses, or retains on a private cell phone within the scope of employment can be a public record if they also meet the other requirements of" the open records statute.
The lawsuit filed on behalf of 9NEWS and Staeger notes that under CORA, a custodian of public records is defined to include "any authorized person having personal custody and control of the public records in question."
The June 21 Red Rocks concert featured Louis Tomlinson, formerly of the group One Direction. According to a story in Denverite, "Attendees squeezed into limited shelter from the storms. People broke bones, suffered head injuries and tripped over hail. They stumbled back from the venue to pummeled cars, only to be stuck in traffic, looking through broken windshields. Some were taken to the hospital."
A mayor's office spokesperson said they could not comment on the 9NEWS allegations "given that the matter is now pending litigation."
Follow the Colorado Freedom of Information Coalition on Twitter @CoFOIC. Like CFOIC's Facebook page. Do you appreciate the information and resources provided by CFOIC? Please consider making a tax-deductible donation.