By Jeffrey A. Roberts
CFOIC Executive Director
Some wildlife advocates are unhappy with a new policy that bars them from audio and video recording, as well as livestreaming, meetings held by a group advising the Colorado Parks and Wildlife Commission on a plan to reintroduce and manage gray wolves.
Acting Colorado Parks and Wildlife Director Heather Dugan imposed the restriction in a memo last month because the Stakeholder Advisory Group "touches on controversial and divisive topics" that require "candid discussions" among members.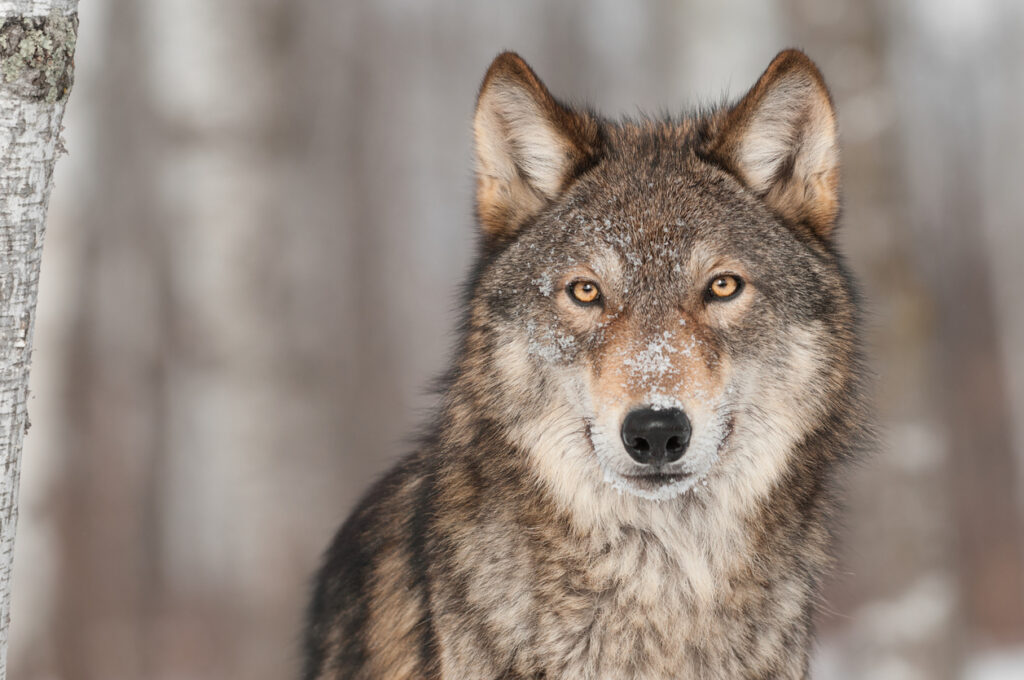 Because SAG meetings aren't recorded by staff and the public can't participate via Zoom or some another teleconferencing platform, anyone interested in the gray wolf issue must either attend meetings in person or rely on published minutes for information. The meetings, which include opportunities for public comment, are being held around the state, including in Durango this week.
"As if COVID wasn't enough, the size of Colorado makes it a real burden to do due diligence and track these conversations," Chris Smith of WildEarth Guardians told the Colorado Freedom of Information Coalition. "I understand why they move the meetings around the state — that's actually pro-accessibilty — but I don't see why they aren't broadcasting them or at least recording them and then allowing them to be seen by the public."
Delia Malone, wildlife chair for the Colorado Sierra Club, thinks the wolf management decision-making process "has been characterized by inequity, lack of inclusion and lack of transparency."
"The process as implemented does not reflect Colorado voters and is not representative of good governance," she wrote in an email to CFOIC. "Why can Coloradans not attend the SAG meetings via Zoom? Why are the meetings not recorded? Why is there no accommodation for the deaf or hard of hearing or those house-bound from illness?"
Colorado voters in 2020 passed Proposition 114, a state law requiring a wolf-reintroduction plan for the Western Slope by 2023.
Wildlife and conservation advocates have complained the wolf reintroduction and management process is weighted heavily in favor of ranchers, hunters and others who want to limit the wolf population. The public may be unaware generally of how the plans are proceeding because participation in advisory group meetings is restricted to those who can attend in person, said Michael Robinson of the Center for Biological Diversity. (A separate technical working group has been meeting behind closed doors.)
"The fundamental problem that underlies the lack of transparency with the SAG is an end-run around Proposition 114," Robinson told CFOIC. "The end result will be a wolf-killing program."
The governance charter creating the SAG declares it "is not subject to the Colorado Open Meetings Law," although its meetings are still open for "in person" public observation "to support openness and transparency."
Because the charter says the SAG "serves in an advisory capacity to Colorado Parks and Wildlife, offering non-binding input into the development of plan content," it can be argued the group fits the open meetings law's definition of a state public body, which includes an "advisory" body of any state agency. If so, any meetings of two or more members "at which any public business is discussed" would be open to the public and proper notice would be required.
Colorado Parks and Wildlife spokesperson Rebecca Ferrell explained the agency's position that the SAG is not a public body in an email to CFOIC. "The SAG lacks any authority to make public policy," she wrote. "… Developing non-binding recommendations does not rise to the level of making 'public business' within the meaning of the (open meetings law)."
Ferrell cited a 2012 Colorado Court of Appeals opinion that, for a meeting to be subject to the law, there must be "a meaningful connection between the meeting and the policy-making powers of the public body holding or attending the meeting."
"The SAG is a vehicle for CPW to solicit stakeholder feedback, not make public policy," she added. "If the formal requirements of the (open meetings law) applied to SAG meetings — including any meetings of two or more SAG members in any setting, including an informal community meeting such as a coffee shop — CPW's ability to solicit meaningful stakeholder input would be reduced."
Even if the SAG were deemed to be a public body, that wouldn't necessarily mean its meetings would have to be electronically recorded (and those recordings could be obtained via the Colorado Open Records Act). A provision in the Colorado Open Meetings Law requires public bodies to continue recording their open meetings if they started doing so on or after Aug. 8, 2001. If the SAG never recording its meetings, it wouldn't have to start under a strict reading of the law.
As to whether the public has a right to record the meetings, media attorney and CFOIC president Steve Zansberg noted that courts have been hesitant to recognize a First Amendment right to record government proceedings "as evidenced by the fact there is no right to record in federal or state courts, including the U.S. Supreme Court."
Colorado Parks and Wildlife decided not to livestream the SAG meetings, Ferrell wrote, "to promote candid discussion among SAG members, many of whom have wildly differing views on wolf reintroduction. CPW's decision was based on the belief that better discussion would occur if the deliberations would not be forever preserved and broadcast anywhere in the world."
Malone said "a little band" of wildlife supporters started recording and livestreaming the SAG meetings on their phones because so few members of the public were coming to the meetings, which are held during workdays. The digital recordings, she said, captured comments from SAG members that needed public scrutiny.
The "recording and livestreaming by individuals was undermining CPW's decision not to livestream the meetings in the first place," Ferrell told CFOIC.
Follow the Colorado Freedom of Information Coalition on Twitter @CoFOIC. Like CFOIC's Facebook page. Do you appreciate the information and resources provided by CFOIC? Please consider making a tax-deductible donation.