Update: Gov. John Hickenlooper signed SB 18-149 into law on Apr. 23, 2018.
By Jeffrey A. Roberts
CFOIC Executive Director
Legislation that limits public access to the records of the Denver Health and Hospital Authority won the support of a committee of state lawmakers Wednesday.
Sen. Bob Gardner, R-Colorado Springs, said Senate Bill 18-149 is intended to protect the privacy of patients served by Denver Health, mostly from "data miners" who request electronic records on behalf of commercial interests.
The bill also would let the authority reject requests for records concerning its health care programs if "premature disclosure" would put Denver Health at a competitive or bargaining disadvantage. A similar exemption already exists for the University of Colorado hospital authority.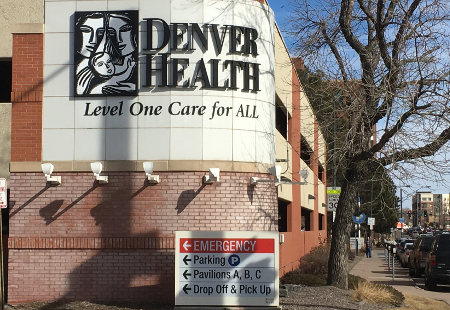 Currently, Denver Health's records are subject to the Colorado Open Records Act, which specifically precludes the disclosure of an individual's medical files. Senate Bill 17-040, the 2017 measure that ensured access to digital public records under CORA, also declared that an individual's "electronic health records" are not available for public inspection.
But it's not enough to protect just individual health records, said Jackie Zheleznyak, Denver Health's manager of government relations. She told the Senate Health and Human Services Committee that the medical center wanted, but didn't get, language in SB 17-040 to exclude all electronic health care information from the open records law.
"Since health care has changed, we believe there is more information – not just the individual medical record – that should have the same protections," Zheleznyak said.
Denver Health has "dozens and dozens of systems with data that's associated with clinical care and patient care," added Tim Harlin, the medical center's chief operating officer. "And so our ability to protect that information is paramount."
He said Denver Health gets requests for electronic data – often from its competitors — that must be redacted to protect individuals' identities. But there is the potential "to miss something and have it be released unintentionally."
Asked for an example of program records that might give Denver Health's competitors an unfair advantage if disclosed, Harlin talked about potential new services to address the opioid epidemic.
Greg Romberg, lobbyist for the Colorado Press Association and the Colorado Broadcasters Association, testified against SB 18-149.
While the public has no right to inspect an individual's medical records, he said, "whenever you make records that are currently available to the public unavailable, that's problematic. More specifically here, we're concerned about being able to evaluate trends."
The bill specifies certain Denver Health records that are subject to public inspection, including board resolutions and minutes, annual reports, financial statements and an accounting "of all money received by and disbursed on behalf of the authority."
The committee voted 5-0 to send the measure to the Senate floor.
Follow the Colorado Freedom of Information Coalition on Twitter @CoFOIC. Like CFOIC's Facebook page. Do you appreciate the information and resources provided by CFOIC? Please consider making a tax-deductible donation.