By Jeffrey A. Roberts
CFOIC Executive Director
Anchor Kyle Clark and the company that owns 9NEWS are suing the Douglas County School District's records custodian for refusing to disclose a Colorado Open Records Act request that sought the names of teachers who called in sick Feb. 3 to protest actions by majority members of the school board.
Clark was one of several journalists and members of the public who asked for copies of the CORA request, according to an online log published by the district.
They were told the request is not a public record because it was withdrawn by the requester.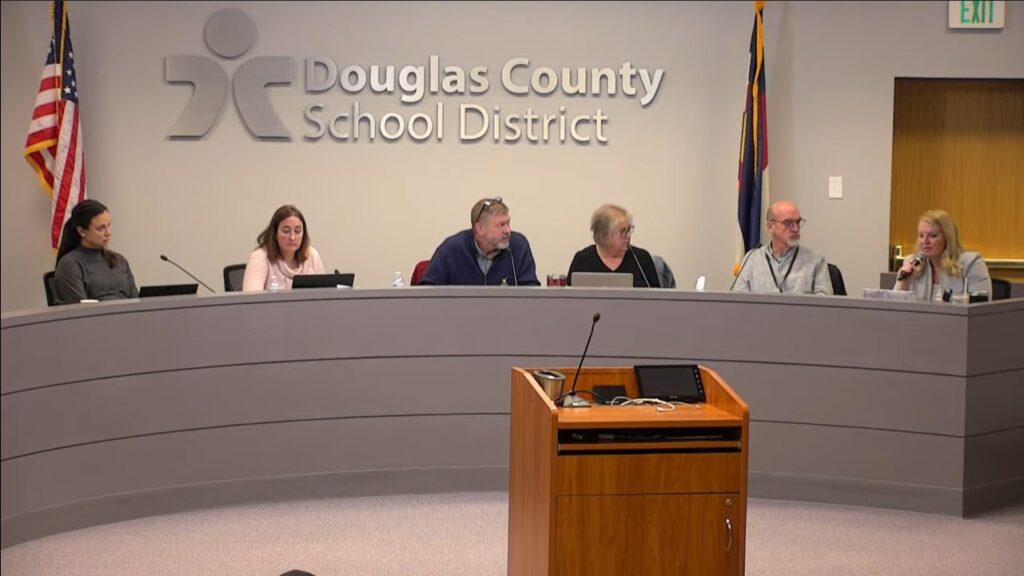 But the lawsuit filed April 6 by Clark and TEGNA Inc. points out that CORA's definition of "public records" includes any "writing" that is "made, maintained or kept" by a political subdivision of the state (such as a school district) "for use in the exercise of functions required or authorized by law or administrative rule." Access to public records can be denied only if an exemption in CORA or another state law applies.
Under that statutory definition, "there can be no serious claim" that requests submitted on a form provided by the school district are not "maintained or kept" by the school district, attorney Steve Zansberg wrote in a Mar. 11 letter to the district's general counsel on Clark's behalf.
"And, once such a form has been completed and submitted, it remains thereafter, a 'public record,'" he maintained. Withdrawing a request "does not, in any way, transform the writing into something else."
The lawsuit notes that the school district's CORA webpage advises potential records requesters — in red, uppercase letters — that "as of January 1, 2022, we will no longer redact names of the persons that submit CORA requests."
"Thus, the person who submitted (the request for the names of staff members who used sick leave) was on clear notice that the CORA request itself" is a public record that the district "was committed to release, upon request, without redacting the name" of the requester, wrote Zansberg, who is president of the Colorado Freedom of Information Coalition.
On Feb. 16, in response to the unknown person's request, the district was preparing to release the names of more than 1,500 teachers and other employees who asked to be absent Feb. 3, the day of a rally at district headquarters. But that evening, following an executive session, the school board's president announced that the names would not be released — even though the Colorado Court of Appeals ruled in 2016 that records showing a public school teacher's sick leave are not part of a teacher's confidential personnel file and must be disclosed.
A Colorado Community Media story Tuesday notes that the district's online log shows a second CORA request for the list of staff members who took sick leave the day of the rally, submitted by Robert L. Baxter on Feb. 7.
The district denied that request, the news organization reported, citing a state statute that protects the confidentiality of "any health or safety information possessed by an employee or employee's family." It also cited a CORA provision that requires the withholding of "electronic health records."
The Feb. 3 rally was held in part to protest the firing of Superintendent Corey Wise by four members of the seven-member school board. Last month, Douglas County District Court Judge Jeffrey Holmes issued a preliminary injunction against the four board members, finding that they circumvented the Colorado Open Meetings Law by holding a series of one-on-one meetings to discuss and decide the superintendent's job status.
A lawsuit in that case is still ongoing. A hearing on Clark's lawsuit is set for later this week, but it is expected to be rescheduled. The Douglas County School District hasn't yet responded to the lawsuit or provided a comment requested by CFOIC.
On Thursday, a Colorado Senate committee is scheduled to take up a bill that would amend CORA's definition of non-disclosable "personnel files" to include "the specific date of an educator's absence from work."
Follow the Colorado Freedom of Information Coalition on Twitter @CoFOIC. Like CFOIC's Facebook page. Do you appreciate the information and resources provided by CFOIC? Please consider making a tax-deductible donation.