Update: The House accepted Senate amendments and repassed HB 21-1103 on Friday, May 7, sending it to the desk of Gov. Jared Polis.
By Jeffrey A. Roberts
CFOIC Executive Director
Legislation creating an online media-literacy resource bank for Colorado public schools appears close to passing the General Assembly over the objections of some Republicans who say the measure is a governmental intrusion on free speech.
"The bill, in my opinion, creates an anti-diversity-of-thought mechanism, and it does it through this creation of a state-controlled resource bank — the idea that the state becomes the arbiter of the information that you should gather," said Sen. Paul Lundeen, R-Colorado Springs, during Senate debate Monday. "We should, I think, promote a diversity of thought. We should promote a diversity of information sources."
But House Bill 21-1103, as amended by the Senate, doesn't require school districts or charter schools to incorporate any materials from the resource bank into a curriculum. And the Colorado Department of Education, which would maintain the resource bank, must provide a way for the public to recommend that certain materials be removed or included.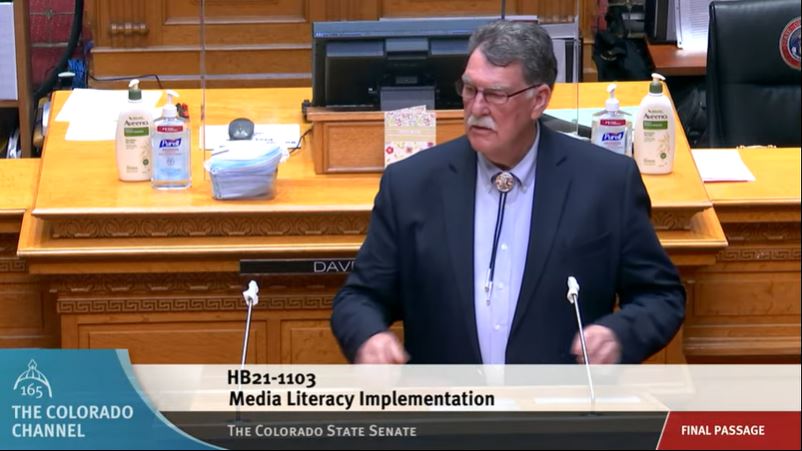 "This is just optional, but it is — it could be — a great resource if you choose to utilize it," said Sen. Brittany Pettersen, D-Lakewood, a sponsor of the bill.
The legislation, which passed the Senate 22-12 and now goes back to the House for consideration of Senate amendments, implements recommendations of a Media Literacy Advisory Committee appointed by the state education commissioner. With the help of consultant Nancy White, the group submitted a 158-page report in December 2019 that includes several pages with links to lesson plans, activities and videos for elementary, middle and high school teachers.
"In a world where anyone can produce, publish, and share information globally, it is essential that students learn to access, analyze, and evaluate all forms of media and information," the report says.
Pettersen said the bill "is not about controlling information. This is about making sure that people think critically when they do see that headline, so they actually look at where those news sources were coming from or if there were any sources at all."
She talked about her father, who "believes anything that comes in an email because … it's on the internet, it must be real. My dad is one of the people who actually believes in QAnon. It's hard to admit that — I love my father — but he lacks being taught those critical-thinking skills in a changing time."
"If we do not teach our children critical thinking, the problem gets worse," said Sen. Don Coram, a Montrose Republican who is also sponsoring HB 21-1103. The bill is not a government intrusion, he said during debate. "The bill says the goal is to educate, to teach critical thinking, without indoctrination. Is that wrong? If it is, I always want to be wrong."
Another Republican, Sen. Kevin Priola of Brighton, spoke in favor of the measure as a way to combat misinformation and disinformation spread by other countries. "What I think we need to understand as a body is that our enemies — our foreign enemies — are trying to use many of our freedoms against us. And we need to be prudent of that … and try to inform, especially the younger generations, of how they're being played."
But Senate Minority Leader Chris Holbert, R-Parker, said the First Amendment bars governments from "passing legislation that abridges speech. House Bill 1103 puts government exactly in that position. Even if it's done correctly, I think it's doing that."
In addition to the resource bank, the bill directs the state board of education to revise reading, writing and civic standards to "identify the knowledge and skills that an elementary through secondary education student should acquire relating to media literacy." The revisions "must give due consideration" to the advisory committee's recommendations.
Follow the Colorado Freedom of Information Coalition on Twitter @CoFOIC. Like CFOIC's Facebook page. Visit CFOIC's legislature page to track bills in the General Assembly that could affect the flow or availability of information in Colorado.