By Sandra Fish
The 2014 campaign season is in full swing and if you're following #copolitics on Twitter, you've got a handle on the never-ending spin.
But the data often tells a different story, especially when it comes to campaign contributions and spending.
Money pays for the messages that campaigns aim at voters, but often it's outside groups, not candidates, spending the big cash in Colorado and nationally.
There are plenty of good stories to find by following the money. The Denver Post's Lynn Bartels reported that a national GOP group may have helped trash Tom Tancredo's efforts in the Republican primary.
Contributions from political action committees are a point of contention in the competitive 6th Congressional District race between incumbent GOP Rep. Mike Coffman and former Democratic state House speaker Andrew Romanoff.
There are numerous stories to be reported using this data.
Here are the links to explore.
Federal campaigns
The Federal Elections Commission is the keeper of data on congressional races.
Take a look at the FEC's interactive maps. You can find broad information on candidates for the U.S. Senate and House. But you can also drill down and download details on specific candidates' spending and contributions.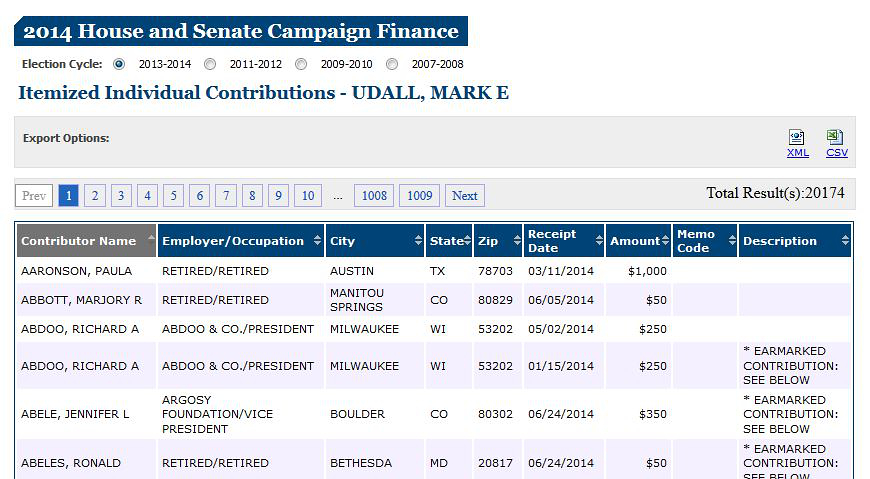 Independent spending is also detailed on the FEC site, and plays a huge role in Colorado races. Just enter CO in the state field, and you can download the data.
Sunlight Foundation's Influence Explorer is another great source of this data. You can sign up for email notifications when a candidate or PAC submits a filing to the FEC. You can download those more-detailed filings from Sunlight's site.
If you're interested in TV advertising, Sunlight has an app for that. You can check Colorado filings with the Federal Communications Commission here. But it's worthwhile to double check what you find with the original FCC source because not all filings end up on Sunlight's site for some reason.
As Colorado Public Radio has reported, candidates and outside groups have spent more than $60 million on political ads so far.
Colorado races
The Colorado Secretary of State's TRACER website is the place to go for state-level campaign data.
Take a look at the graphic on the front page and keep in mind the message from that pie chart: Candidate money is the least of our state's campaign cash scene. That's in part because the low limits on candidate and party contributions in Amendment 27, passed by voters in 2002, pushed money to outside groups. Independent expenditure committees and 527s (an IRS designation) can take unlimited donations and spend unlimited amounts, but can't coordinate with candidates. That's where the Colorado money is.
Still, you'll want to search for specific candidates to get details of House and Senate races in your area.
There are good resources under the "Reports" heading – you can get a listing of committees, search contributors by zip code, name and more. You can also search for electioneering, independent expenditures and contributions from major contributors, which can be especially helpful as campaigns begin reporting more frequently closer to the election.
Colorado Ethics Watch staff counsel Peg Perl noted recently that some of this data, which must be filed in almost-real time, doesn't always have the required level of detail, depending on which search you use. A secretary of state spokesman recommended using the advanced expenditure search and specifying electioneering communication.
You can also download bulk data for all candidates and committees from TRACER, which can be useful in identifying trends, large contributors to a variety of campaigns and more.
The National Institute on Money in State Politics, aka Follow the Money, is another good source of historic state-level contribution data with standardized names and industry information. But the group hasn't collected information on contributions to 527s and independent expenditure groups in Colorado.
The caveats
There are some caveats to keep in mind in working with any campaign finance data:
The information is entered by humans, so there may be errors in spellings, dates, even the data. Some of this is obvious (if the year is 2029, for instance), but actual data errors can only be corrected by the source. So keep an eye out for amended filings at the state and federal levels.
Contributor names may be entered in a number of ways (Pat vs. Patricia), so you may want to filter reports in Excel or Open Refine to standardize the names.
At the state level, some Colorado groups have 527s that accept contributions and then transfer the money to independent expenditure committees that spend the money. Don't count that transfer as another contribution in your totals.
Beware of conduit contributions, especially Act Blue (an online fundraising site), at the federal level. Those contributions are typically listed twice, attributed to the actual donor and to Act Blue on detailed filings. Don't double count them. I typically delete the Act Blue lines to avoid duplication.
Look closely at spending to avoid double-counting. Does payment of a credit card account include payment of expenses charged to that account and listed elsewhere? This one is tougher to figure out and requires a careful examination of expenses.
Check out the slides presented to northern Colorado journalists at a recent Society of Professional Journalists event here.
Sandra Fish is a data journalist for New Mexico in Depth and reports about political advertising for Colorado Public Radio News. Follow her on Twitter @fishnette.
Follow the Colorado Freedom of Information Coalition on Twitter @CoFOIC. Like CFOIC's Facebook page. Do you appreciate the information and resources provided by CFOIC? Please consider making a tax-deductible donation.