Update: HB 17-1328 died on a 3-2 vote May 1 in the Senate State, Veterans and Military Affairs Committee. It had passed the House on a 36-28 vote on Apr. 21.
By Jeffrey A. Roberts
CFOIC Executive Director
Frustrated by President Donald Trump's refusal to release his income tax returns, Democratic state House members endorsed a bill Monday that would require presidential and vice presidential candidates to disclose at least five years of personal returns to qualify for the general election ballot in Colorado.
House Bill 17-1328 passed the House Finance Committee on a party-line vote, despite efforts by the bill's sponsors to frame the measure as nonpartisan.
"This is financial transparency for the voters of Colorado," said Rep. Chris Hansen, D-Denver. "And we think it's very appropriate to add this qualification for the most important elected position on the planet."
Hansen and co-sponsoring Rep. Edie Hooton, D-Boulder, said voters in Colorado deserve to know about a presidential nominee's business arrangements, financial standing and charitable donations, and whether his or her personal tax information reveals potential conflicts of interest.
Republican members argued that the matter shouldn't be decided at the state level.
"I believe this is a federal issue," said Rep. Susan Beckman, R-Littleton.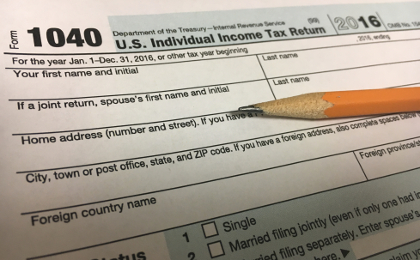 Although presidential candidates haven't been required to release their tax returns, Trump broke a 40-year tradition among major-party candidates by refusing to let the public see his returns.
"It's one of the unwritten rules of American politics," Hansen said, "and we think it's time to write these rules down."
But Deputy Secretary of State Suzanne Staiert testified that HB 17-1328 would likely lead to costly litigation and could deprive many Colorado voters of an opportunity to cast ballots for the candidate of their choice.
"A candidate could obtain the majority vote in a primary and be denied access to the ballot in a general election," she said.
The bill would require the disclosure of a candidate's five most recent federal income tax returns at least 90 days before a presidential election. Copies would be posted on the Secretary of State's website. If a candidate refuses to provide tax returns, or refuses to consent to their public disclosure, his or her name would be left off the Colorado ballot.
Lawmakers in several other states have introduced similar bills, and much has been written recently about whether such measures would be constitutional.
"Many of us may, in fact, want to see these tax returns for anyone who runs for president," said Rep. Kevin Van Winkle, R-Highlands Ranch. "… I'll be a no vote (on the bill) and very anxiously awaiting to see what happens in Washington on the matter with the Federal Elections Commission."
If HB 17-1328 passes the Democratic-controlled House, it likely faces opposition in the Republican-controlled Senate.
Follow the Colorado Freedom of Information Coalition on Twitter @CoFOIC. Like CFOIC's Facebook page. Visit CFOIC's legislature page to track bills in the General Assembly that could affect the flow or availability of information in Colorado.