FOIA Machine, an easy way for people to file and track freedom-of-information requests, is now available via the Colorado Freedom of Information of Coalition thanks to a new partnership.
The National Freedom of Information Coalition teamed up with FOIA Machine to provide the free service to the CFOIC and other NFOIC-affiliated organizations around the country. The technology helps users prepare, file and track FOI requests to public agencies at the federal, state and local levels following the applicable laws of a specific jurisdiction.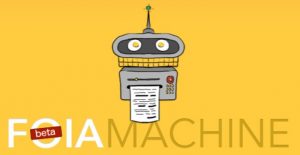 After creating an account, requesters can use either an email-like form or a guided wizard. FOIA Machine emails those FOI officers selected by a user, and it allows a user to track the status of his or her requests as well as agency response times. It also lets a user create a template for sending the same request to multiple agencies.
When creating a request, you can choose to make it public or keep it private. Public requests can be searched and viewed by other users.
"NFOIC members' knowledge and expertise is vitally important in helping citizens navigate public records laws," said FOIA Machine Project Manager Coulter Jones. "We're excited all FOIA Machine users will now benefit from NFOIC's expertise and that this platform can help NFOIC members access public records."
Visit the CFOIC's FOIA Machine page.
Follow the Colorado Freedom of Information Coalition on Twitter @CoFOIC. Like CFOIC's Facebook page. Do you appreciate the information and resources provided by CFOIC? Please consider making a tax-deductible donation.