By Jeffrey A. Roberts
CFOIC Executive Director
Three journalist associations and the Colorado Freedom of Information Coalition are urging Gov. John Hickenlooper to veto Senate Bill 18-223, which would close public access to autopsy reports on minors.
CFOIC sent a letter to Hickenlooper on Monday as did the Colorado Press Association, the Colorado Broadcasters Association and the Colorado Springs Press Association.
"There is simply no pressing need for the drastically overbroad sealing of public records this bill would effect," CFOIC's letter says. "The cost to our society from losing access to information that sheds light on a wide variety of government offices greatly outweighs the bill's marginal (if any benefit) to the public."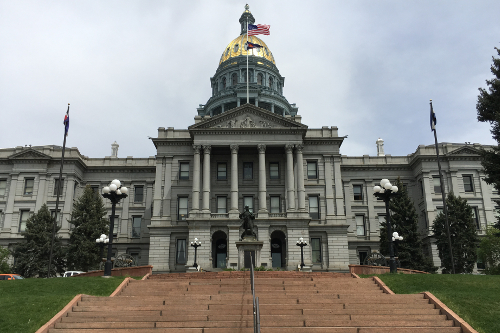 If the legislation becomes law, autopsy reports on people under 18 who have died will be confidential and available only to certain parties specified in the statute. While the bill permits "any person" to petition a district court for access to a report "on the grounds that disclosure … constitutes a significant public benefit," it reverses a presumption of openness that has existed in the law for many years.
Autopsy reports on both minors and adults currently are excluded from a Colorado Open Records Act (CORA) provision that makes medical records confidential. If a coroner believes that disclosure of a particular autopsy report would cause "substantial injury to the public interest," he or she can ask a court for authorization to withhold all or portions of it.
Requested by the county coroners' association, SB 18-223 was sponsored in the legislature by Republican Sen. Bob Gardner of Colorado Springs and Democratic Rep. Matt Gray of Broomfield. The change is necessary, they contended, to protect the privacy of families of children who have died and to prevent "copycat" suicides and homicides.
But during legislative hearings, the coroners "presented no actual evidence (only unsupported conjecture) that disclosure of juvenile autopsy reports encourages other children to commit suicide, nor did they show any examples of autopsy reports being irresponsibility published," CFOIC's letter says.
If the bill becomes law, the CFOIC added, journalists and academics will have to wage costly court battles in order to obtain access to the reports they need to examine the child welfare system and to report on suspicious or otherwise controversial child deaths.
In their letters, all four organizations cited news stories that used publicly available autopsy reports to highlight cases of child abuse and neglect, including a 2012 investigative series by The Denver Post and 9NEWS that led to reforms in the state's child welfare system.
The Post/9NEWS series showed that 72 of 175 Colorado children who died of child abuse in the previous five years were known to an agency that was supposed to keep them safe. The journalists who worked on the project were able to classify several of the deaths as abuse by examining juvenile autopsy reports.
"These are the memoirs of those who couldn't defend themselves," says the letter from Justin Sasso, president and CEO of the Colorado Broadcasters Association. "The only evidence left behind is the information their battered and bruised bodies provide in an autopsy report."
The bill "silences those voices and ultimately removes our ability, as journalists and as a community, to identify and change broken systems that allow the gratuitous death of a child," the CBA letter adds.
SB 18-223 "appears to have been introduced to solve a problem brought forth by coroners that I'm not convinced is actually happening," wrote KKTV 11 News Director Liz Haltiwanger, president of the Colorado Springs Press Association. "… I've yet to see a news story, a blog, or even an individual social media post that described a Colorado autopsy with sufficient detail to help other teens mimic the behavior. In fact, news organizations generally refrain from even reporting on suicides."
Details on the methods used by teens to commit suicide "generally come from rumors spread by peers and their parents online," Haltiwanger added. "… These details are not coming from the release of autopsy reports."
A law that closes child autopsy reports "will mean that not one public official is responsible to publicly identify a child whose death is investigated by a local coroner," notes the letter from Colorado Press Association CEO Jerry Raehal. "The police won't have to do it until or unless an arrest is made. The (district attorney) doesn't have to do it until or unless charges are filed.
"The fatality review process, the health department, human services – none of them are required to report deaths of children that we've concluded as a state are so important they must be investigated by public officials and public employees whose offices are funded with public money."
SB 18-223 passed in the waning days of the legislative session. Hickenlooper told reporters last Friday that he hadn't yet read the bill "so I don't know the good parts and the bad parts. Most bills that are so contentious usually have good and bad aspects, good and bad consequences. So we'll look at it."
AUTOPSY BILL: I asked the Gov. about whether he intends to sign or veto a bill banning journalists (or making it a lot harder at the very least) from requesting autopsies of minors. We discussed his role of open records. Lots of good journalism has come from open records #coleg pic.twitter.com/2IiYXXsnjS

— Joe St. George (@JoeStGeorge) May 10, 2018
Follow the Colorado Freedom of Information Coalition on Twitter @CoFOIC. Like CFOIC's Facebook page. Visit CFOIC's legislature page to track bills in the General Assembly that could affect the flow or availability of information in Colorado.