By Jeffrey A. Roberts
CFOIC Executive Director
For 14 years, reporter Teresa Benns has endured frequent verbal attacks and even threats of physical violence while documenting and commenting on the workings and failings of government in Saguache County and the small town of Center in Colorado's San Luis Valley.
She perseveres because it's her duty, she said Saturday, accepting the CFOIC's Jean Otto Friend of Freedom Award during a luncheon in Monte Vista.
"Community news is for the community and reporters are community watchdogs," said Benns, who writes for the weekly Center Post-Dispatch (circulation 320). "I have tried to fulfill what I believe is my civic and professional duty to alert people to the existence of their First Amendment rights…I believe it is important for them to know that they can depend on the press to champion these rights."
Last week, we wrote about the battles that Benns and the Post-Dispatch have fought to open meetings and records in Center and Saguache County. For the newspaper's ongoing efforts to make these governments more accountable to their residents, Post-Dispatch Publisher Jennifer Alonzo also was presented with the Friend of Freedom Award on Saturday.
CFOIC President Steve Zansberg, a media law attorney whose firm is counsel for the Colorado Press Association, said Benns frequently contacts him and his partners with questions such as, "Do you think they're breaking the law – again? Shouldn't the public be entitled to see this document? Aren't they required to hold that meeting open to the public?"
"And we frequently find ourselves answering, 'Yes.'"
"She cranks out story after story about how the citizens of this town and this county deserve better," Zansberg said. "They deserve a government that not only hides nothing but has nothing to hide. This passion, this never-ending pursuit of the truth, is what drives her."
Also speaking at the awards luncheon were former Center Mayor Susan Banning, Center Schools Superintendent George Welsh (via a recorded message) and Benns' friend, Lisa Cyriacks, president of F.A.I.R., an organization formed in Aspen to support journalism in the public interest.
Welsh, in his video message, read two quotes from former U.S. Supreme Court Justice Hugo Black, including one about the press having a duty to prevent the government "from deceiving the people and sending them off to distant lands to die of foreign fevers and foreign shot and shell."
"Teresa is not stopping a local government from getting into any wars," Welsh said, "but she is making sure that they are open and honest about the things that they're doing to serve the citizens."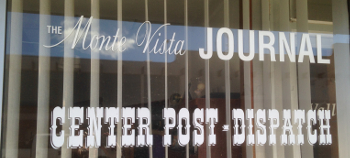 Alonzo said she sometimes asks Benns whether she wants to cover a different town for one of the Post-Dispatch's sister newspapers.
"She says, 'Nah, it doesn't matter. I've got this and I'm just going to keep on doing what I'm doing.' It amazes me."
Previous recipients of the Jean Otto Friend of Freedom Award include former Denver Post publisher Dean Singleton, Jeff Thomas and Pam Zubeck of The Gazette in Colorado Springs and the Ballantine family, owners of the Durango Herald.
The award honors the legacy of Jean Otto, a long-time editor and reader representative at the Rocky Mountain News who founded the CFOIC in 1987 and was a tireless advocate for First Amendment and freedom-of-information rights.
Follow the Colorado Freedom of Information Coalition on Twitter @CoFOIC. Like CFOIC's Facebook page. Do you appreciate the information and resources provided by CFOIC? Please consider making a tax-deductible donation.