By Jeffrey A. Roberts
CFOIC Executive Director
Journalists, researchers and members of the public who can't afford a subscription service such as Lexis Advance or Westlaw have for years wanted free or low-cost remote access to Colorado court records.
Now, with the Colorado Supreme Court library in downtown Denver "closed until further notice" because of the COVID-19 pandemic, the state's judicial branch is finally letting anyone pull up civil case filings on a personal computer at no charge — at least temporarily. You can print physical copies of the documents or save them as PDFs.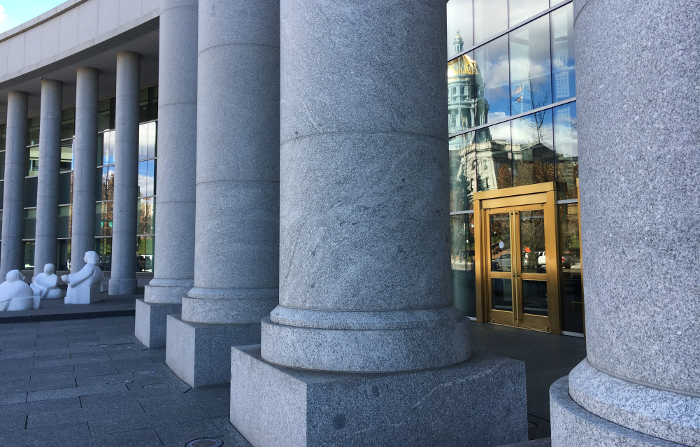 "There were a number of people who would come to the law library regularly," said Jon Sarché, deputy public information officer for the Colorado Judicial Department. "We were searching for a way to restore that kind of access, and this was a solution that became apparent to us."
Using the terminals at the law library, on the first floor of the Ralph L. Carr Judicial Center, has been the only way for someone without a subscription service to look up digital images of civil court documents on file anywhere in the state. Over the years, the judicial branch has received multiple requests to develop a state version of PACER, an online U.S. government service that lets anyone with a computer call up documents from federal appellate, district and bankruptcy courts.
Four years ago, Paul Chessin, a former senior assistant attorney general, asked the judicial department's Public Access Committee to consider at least allowing access to civil filings on terminals at public libraries around Colorado.
"I don't need to tell this committee about our country's long tradition of public access to our judicial system," Chessin said at the time. "It is one of the founding pillars of our democracy. And I don't need to explain the benefits that increased public access to court records has on our judicial system. Among other things, it increases the public confidence in our system."
The judicial department started offering the online access July 8, Sarché said. Anyone can get a password, but you first must contact Supreme Court librarian Chris Hudson and then sign a terms-of-service agreement. Access is granted for 30 days at a time, which is "a reflection of the temporary nature of the program while we explore whether there are long-term options," Sarché said.
As of Friday, only about a dozen people had asked for access but the program hasn't been publicized yet and isn't mentioned on the law library's web page (although the page does note that Lexis Advance is offering free access for 30 days).
Private investigator and former investigative journalist Ryan Ross found out about the temporary remote access when Hudson sent him the paperwork on July 6. A law library regular, he had emailed the librarians in April, "suggesting it was a good time to expand access to court filings, given that the library was closed and that re-opening would expose librarians to customers with you-know-what," he told the Colorado Freedom of Information Coalition.
"This is the first step the Colorado Supreme Court Justices have taken to help the public get access to court records in the public court system in years," Ross wrote in an email to CFOIC. "It's a tiny step, it's only temporary and it's beyond sad that it takes a global pandemic to get the Justices off their troglodyte devotion to restricting access, but I celebrate it nonetheless."
He noted that the new, temporary remote access "doesn't include access to criminal records. Federal courts, by contrast, have for more than a decade allowed anyone anywhere with access to a computer and the Internet to get almost all court filings in both civil and criminal cases. The Colorado Justices still have a long ways to go to match that."
Sarché told CFOIC, "No final decision has been made as to whether the program will be continued after it's safe to reopen the library."
Since well before the pandemic, the judicial department has had an online form for requesting mailed copies of either civil or criminal court records, subject to per-page copying fees, a retrieval charge and research and redaction charges.
Follow the Colorado Freedom of Information Coalition on Twitter @CoFOIC. Like CFOIC's Facebook page. Do you appreciate the information and resources provided by CFOIC? Please consider making a tax-deductible donation.