By Jeffrey A. Roberts
CFOIC Executive Director
The final report of a state-appointed task force on police body cameras does not recommend when or under what circumstances captured video should be released to the public.
Submitted to the General Assembly last Thursday, the report focuses on other questions required by HB 15-1285, the 2015 legislation that created the study group and established a body camera grant program for local law enforcement agencies. These include when body cameras ought to be turned on and off, when someone must be notified that a camera is in use and when consent is necessary to keep recording.
Lawmakers mentioned public access issues in the bill's legislative declaration. The use of body-worn cameras by law enforcement, it says, "requires consistent answers to questions" such as when to allow public access to recordings, the timing of disclosures, data retention and whether there should be limits on the use of publicly disclosed videos.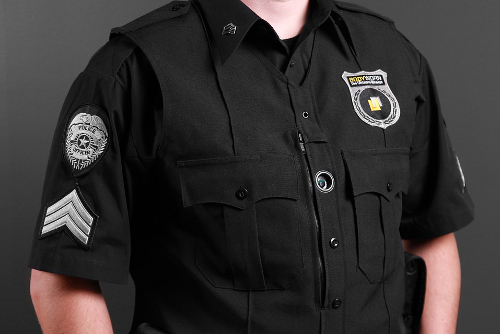 But HB 15-1285 didn't mandate answers to those questions and the study group didn't have time to address them.
"The Study Group discussed these topics but time limitations precluded the development of recommendations on these critically important BWC (body-worn camera) policy areas," the report states.
The 15-member task force, which was appointed and coordinated by the Colorado Department of Public Safety, recommended that each Colorado law enforcement agency using body cameras develop its own comprehensive written policy. Such a policy should address numerous topics, including procedures "for releasing recorded data to the public, including protocols regarding redactions and responding to public disclosure requests."
The report calls the public release of body-cam recordings "a developing area of the law" in other states. But in Colorado, it notes, the disclosure of footage is guided by judicial opinions applying the Colorado Criminal Justice Records Act (CCJRA).
In particular, the report cites Freedom Colorado Information, Inc. v. El Paso County Sheriff's Department. In that 2008 decision, the Colorado Supreme Court "set forth a non-exhaustive set of factors that a records custodian should consider when exercising discretion whether to disclose criminal justice records," the study group wrote.
Media lawyer Steve Zansberg, president of the Colorado Freedom of Information Coalition and a member of the study group, said he is pleased the final report cites Freedom Colorado because the Supreme Court in that decision stressed that the CCJRA "favors disclosure" of criminal justice records, which would include police body camera videos.
For records containing private information that can't be disclosed, the Court noted that custodians' power to redact is "an effective tool to provide the public with as much information as possible, while still protecting privacy interests when deemed necessary." The Court in that case also directed custodians to "redact sparingly to promote the CCJRA's preference for public disclosure."
The study group, during its months-long deliberations, learned about various technologies used to redact body-cam footage to protect, for instance, the privacy of children who are depicted in videos.
"The CFOIC believes strongly that a necessary pre‑condition for the fulfillment of a BWC program's objective of fostering greater public trust in, and support for, law enforcement is maximizing public access to the recordings that document the official conduct of peace officers in discharging their duties," Zansberg said.
Follow the Colorado Freedom of Information Coalition on Twitter @CoFOIC. Like CFOIC's Facebook page. Do you appreciate the information and resources provided by CFOIC? Please consider making a tax-deductible donation.