Update: The Colorado House passed HB 18-1152 on a voice voice on Tuesday, Apr. 10.
By Jeffrey A. Roberts
CFOIC Executive Director
After trying for three years to make the state judicial branch subject to the Colorado Open Records Act, Rep. Polly Lawrence finally notched a victory Thursday when a legislative committee passed an extremely limited version of her perennial bill.
"It certainly doesn't go as far as I'd like, but it's a step in the right direction," the Roxborough Park Republican said.
As unanimously approved by the House State, Veterans and Military Affairs Committee, House Bill 18-1152 now only addresses access to records of sexual harassment complaints and investigations. The bill had a much broader scope when introduced, changing the definition of public records in CORA to include the judicial department's administrative and budget records.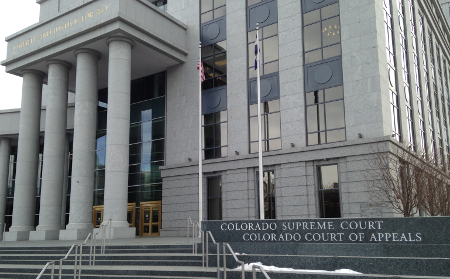 Lawrence's proposal wasn't given much of a chance in the Democratic-controlled committee, which had killed previous versions of the same bill. But Rep. Mike Weissman, D-Aurora, was prompted to craft the successful amendment after hearing testimony last month that those who accuse judicial branch employees of sexual harassment may not be able to find out the outcome of their complaints. The same is apparently true when such allegations are made against lawyers regulated by a judicial branch agency.
During last month's hearing, Deputy Secretary of State Suzanne Staiert conveyed her personal experience being fired as Littleton city attorney several years ago after filing a sexual harassment complaint against a municipal judge. She said the Office of Attorney Regulation Counsel, which is in the judicial branch, eventually dismissed her complaint but refused to provide her with records on its investigation.
Under CORA, records of sexual harassment complaints and investigations are off-limits to the public but available to "the person making a complaint and the person whose conduct is the subject of such a complaint." The bill, in its current form, would make that subsection of CORA apply to the judicial branch until it is repealed on May 1, 2021.
The repeal date is intended to give the judicial branch time to change its rules governing access to administrative records. "The general assembly urges the Colorado judicial department to revise its rules governing access to records, rules governing attorney discipline, and other applicable rules to allow greater transparency of sexual harassment investigation proceedings to persons in interest while respecting legitimate confidentiality interests," the bill now states.
Making the judicial branch subject to even a small section of CORA may be significant for another reason. Lawrence's bill has failed in the past, in part, because the Colorado Bar Association and other opponents say it is inconsistent with the separation of powers clause in the Colorado Constitution, which gives the judicial branch the power to promulgate rules regarding the administration of the courts.
"This is a huge victory for saying this is not a separation-of-powers issue," Staiert said of Thursday's vote, which sends the bill to the House floor.
Colorado's judiciary is exempt from CORA because of two Colorado court rulings, most recently Gleason v. Judicial Watch in 2012. In that case, the Colorado Court of Appeals appeared to leave it to the legislature to define the judicial branch as a state agency for open records purposes.
Follow the Colorado Freedom of Information Coalition on Twitter @CoFOIC. Like CFOIC's Facebook page. Do you appreciate the information and resources provided by CFOIC? Please consider making a tax-deductible donation.