By Kevin Vaughan
CFOIC Board of Directors
Recently retired Denver attorney Marc Flink spent decades fighting alongside news organizations for public access to the records and workings of government — and played a leading role in some of the most consequential First Amendment cases in recent Colorado history.
Flink — who embarked on a new life of outdoor activities, adventures and traveling when his retirement began Jan. 1 — practiced for 44 years, all of them at BakerHostetler. During that time, he handled myriad cases rooted in the public's right to know, arguing for access to records in the Columbine tragedy, successfully defending reporters who were accused of defamation and obtaining precedent-setting court rulings.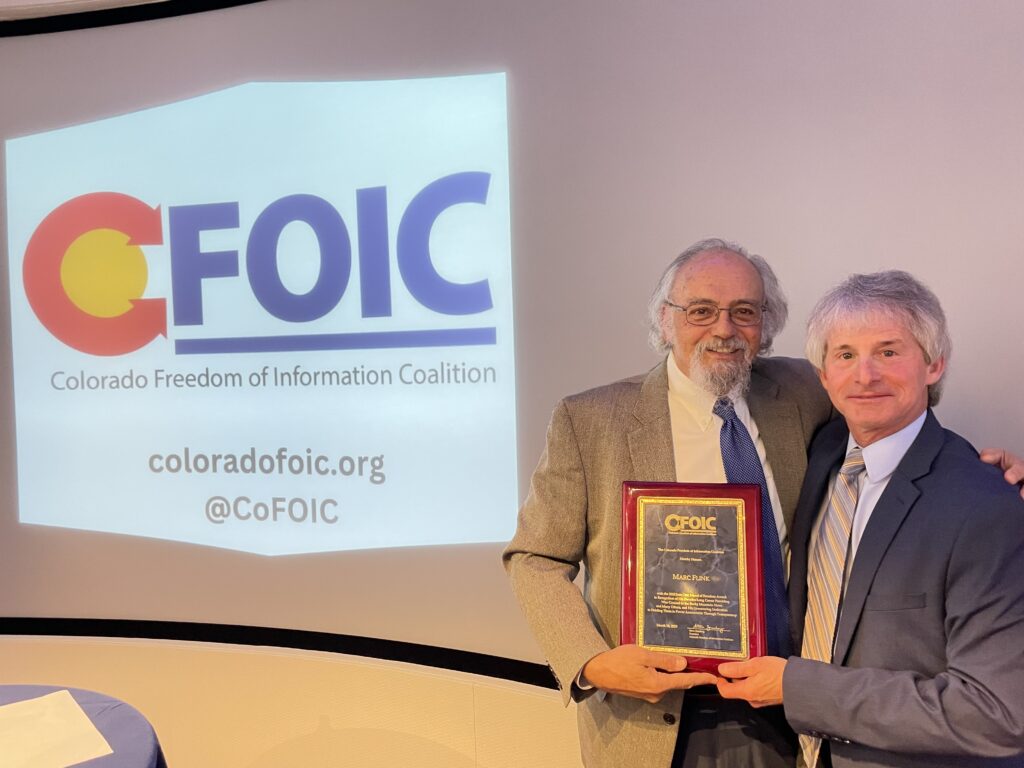 For that tireless work, the Colorado Freedom of Information Coalition bestowed its highest honor on Flink, the Jean Otto Friend of Freedom Award. The award is named in honor of the longtime editor and reader representative at the Rocky Mountain News. Otto founded CFOIC in 1987 and worked tirelessly on First Amendment and freedom-of-information issues.
Steve Zansberg, president of CFOIC's board, presented the award to Flink at a reception March 16.
"Looking back on my career, I can assuredly state that my most challenging and satisfying work related to assisting media organizations, principally the Rocky Mountain News, and citizens in obtaining information from government under Colorado's open records and open meetings laws — and in assisting the Rocky when they were sued for defamation by the subjects of the Rocky's journalism who did not like the truth of their actions being revealed," Flink said at the ceremony.
Flink received many honors over the years: Colorado Super Lawyer from 2007-2018; Best Lawyers in America, 2006-2022; and 5280 Top Lawyers, 2015-2022, in the Litigation/First Amendment/Media categories. In 2017, he was Colorado Lawyer of the Year in that category with Best Lawyers in America.
Some of Flink's work touched on major news stories.
He represented the Rocky in a fight for autopsy reports after the Columbine tragedy, and he defended the paper after it was sued by a man who alleged he was defamed in a story about his extended family and the criminal activities of many of his relatives. The Colorado Supreme Court rejected the man's attempted invasion-of-privacy claim under the theory of "false light" — its ruling said recognizing a claim of false light would have a chilling effect on the free-speech activities of the news media.
Flink won another precedent-setting ruling after the University of Colorado Hospital Authority sought a temporary restraining order to prevent the Rocky from publishing a peer review report it obtained from a confidential source. In that case, a judge ruled that granting the temporary restraining order would amount to prior restraint — and then ruled that the privacy protections in the Health Insurance Portability and Accountability Act didn't apply to a situation like that one.
Although Flink primarily represented the Rocky, he worked in partnership with attorneys Zansberg and Tom Kelley, who represented The Denver Post, on a number of cases. That included efforts to obtain documents in the JonBenét Ramsey murder case and racy emails sent by Arapahoe County's clerk and recorder to a subordinate who was also his girlfriend.
Flink also worked pro bono on behalf of CFOIC as a member of the board of directors, the Reporters Committee for Freedom of the Press, the Society of Professional Journalists and other organizations. Most recently, he worked with a consortium of news organizations fighting for access to encrypted police radio communications. That issue has yet to be resolved.
In accepting the award, Flink read from comments Otto made in 1988 after she won the University of Arizona's John Peter Zenger award for Freedom of the Press and the People's Right to Know.
"In our divisions," Otto said, "we are turning government over to politicians. We are abdicating our duty to govern ourselves and turning the country over to the scalawags …
"The press and the American people, in all their diverging views, need to work together, in all our separate ways, to make sure that we do not become the instruments of our own destruction. We need to criticize and challenge and confront any government that does not meet our needs. We need to demand answers. We need to speak with vigor and passion, with all our many voices. We need to know in our hearts and minds, that if we choose to be meek, there will be nothing to inherit."
Watch the Jean Otto Friend of Freedom Award presentation, which includes a video tribute from former Rocky Mountain News Editor John Temple.
Kevin Vaughan is an investigative reporter at 9NEWS. He previously worked at the Rocky Mountain News and The Denver Post.
Follow the Colorado Freedom of Information Coalition on Twitter @CoFOIC. Like CFOIC's Facebook page. Do you appreciate the information and resources provided by CFOIC? Please consider making a tax-deductible donation.