By Jeffrey A. Roberts
CFOIC Executive Director
A district court ruling against four Douglas County school board members last week doesn't affect other government boards, councils and commissions, but it could persuade judges who examine similar cases concerning the legality of serial or daisy-chain meetings under the state's open meetings law.
A serial meeting occurs when two members of a local public body — or fewer than a quorum — meet privately by email, text message, phone or any other means to discuss public business and relay what is said to additional members of that board or council.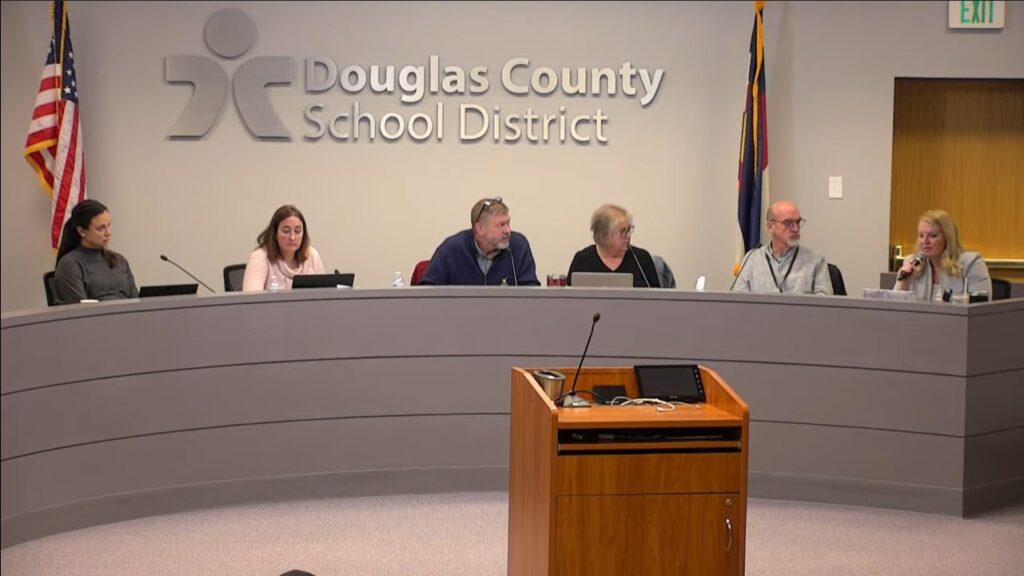 In his Friday decision, Douglas County District Court Judge Jeffrey Holmes found that the four majority members of the school board violated the Colorado Open Meetings Law by discussing the job performance of then-Superintendent Corey Wise in a series of one-on-one meetings in January 2022 — outside of public view — and deciding to "end Wise's involvement with the district either by resignation or by termination."
The judge also found that the school board's subsequent formal decision to fire Wise in a public meeting on Feb. 4, 2022, "was a rubber stamping of the discharge discussion and decision that constituted the COML violation by the Individual Defendants and the violation, therefore, went uncured."
"Circumventing the statute by a series of private one-on-one meetings at which public business is discussed and/or decisions reached is a violation of the purpose of the statute, not just its spirit," Holmes wrote, repeating a phrase he used last year in a preliminary injunction issued against board members Michael Peterson, Rebecca Myers, Kaylee Winegar and Christy Williams.
So far there is no indication the school board plans to appeal the ruling. Board members made statements about Holmes' ruling during a meeting Tuesday, but they didn't discuss a possible appeal. "We will simply rely on existing COML going forward," board president Peterson said.
Even if the Colorado Court of Appeals does not get a chance to create binding, precedent-setting case law on serial meetings, Colorado Freedom of Information Coalition president Steve Zansberg said "well-reasoned rulings such as Judge Holmes' serve as persuasive (non-binding) authority that other judges may consider in deciding similar cases."
"Judge Holmes found, as he did in March of last year, that to permit four members of a local public body to circumvent the public notice, open meeting and minutes requirements of the open meetings law by deliberately convening a series of one-on-one conversations on the same matter of public business would render the open meetings law meaningless," said Zansberg, a freedom-of-information attorney who represented plaintiff Bob Marshall in the lawsuit.
"The ruling is fully consistent with published precedents from the state's appellate courts holding that such plainly evasive measures will not be tolerated."
The open meetings law doesn't specifically mention serial or daisy-chain meetings, but it defines a "meeting" subject to the law as "any kind of gathering, convened to discuss public business, in person, by telephone, electronically, or by other means of communication." Local public bodies must open meetings of a quorum or three or more members, whichever is fewer.
During a June 12 trial and in briefs filed with the court, defendants' attorney Geoff Blue argued that Marshall, a Democratic state representative from Highlands Ranch, was trying in his lawsuit "to impose a new legal requirement that exists nowhere in Colorado law." Blue said the case "is fairly simple. It is about whether to enforce the law as it is written or to enforce the law as the plaintiff wants it to read."
Holmes in his ruling noted the lack of appellate decisions in Colorado "addressing whether serial communications violate the COML," but he looked to a 2007 Hawaii court opinion because that state's open meetings law is like Colorado's "and the Hawaii court cited a number of decisions from states with similar laws."
"These decisions are consistent with the position that Colorado has taken about the conduct of public business," the judge wrote. "The COML declaration of policy provides that even 'the formulation of public policy…may not be conducted in secret.'"
During the trial, Peterson said the preliminary injunction imposed by Holmes last year has impacted the board's ability to work efficiently and respond quickly to certain situations such as press inquiries and emergencies like bomb threats. But board member David Ray, during a May meeting, said the injunction has made the board "better … because we do everything in public now. There's not the concern that someone is going off and doing a daisy-chain communication and conspiring before it comes to the dais."
Members of a public body can't be permitted to act independently, outside of public board meetings, school board member Susan Meek told CFOIC. If that were allowed, "there would be a significant erosion of board integrity, transparency, and public trust. Even if boards tried to cure their actions in a public meeting, the damage has been done," said Meek, who teaches board governance as a consultant and has worked for both the Colorado Association of School Boards and the Colorado Association of School Executives.
Follow the Colorado Freedom of Information Coalition on Twitter @CoFOIC. Like CFOIC's Facebook page. Do you appreciate the information and resources provided by CFOIC? Please consider making a tax-deductible donation.